We're just three matchdays into the 2021/22 Premier League season, but now it is time for everyone to take a pause as club football will be replaced by international matches for the next week.
Only one side has a 100% record – Tottenham Hotspur – while three are stuck on zero points – Wolverhampton Wanderers, Norwich City and Arsenal.
Of course, it is way too early to begin drawing any conclusions for the season, but a good start is obviously always helpful.
At the same time, a number of players have impressed too, so let us take a closer look at some of them by picking a team of the month for August.
GK: David Raya
Among the newcomers this season, Brentford have performed the best so far as they have an unbeaten record including a famous opening-day victory against Arsenal which has just about propelled them in the top half of the table.
They also boast of the joint-second-best defensive record in the competition so far alongside Manchester City, Chelsea and Liverpool, and a fair bit of that is down to the tremendous performances of goalkeeper David Raya.
According to the PSxG (Post-Shot Expected Goals) model, the 25-year-old keeper has kept out 1.3 goals as he has only conceded once after facing 11 shots, equating to a 90.9% save percentage.
RB: Trent Alexander-Arnold
Trent Alexander-Arnold had a slightly disappointing 2020/21 season by his standards with added injury troubles, but he looks to be back to his best now.
The English right-back only has one assist to speak of in three matches, but he has the highest xA in the league which weighs in at 1.8.
Apart from that, he also leads the competition in terms of crosses (19), key passes (15), passes into the penalty area (11) and through balls (three).
The last two stats might seem especially unusual for a right-back, but they can be explained by the new role he has played with Harvey Elliott in the side which sees him often invert into central positions.
RCB: Shane Duffy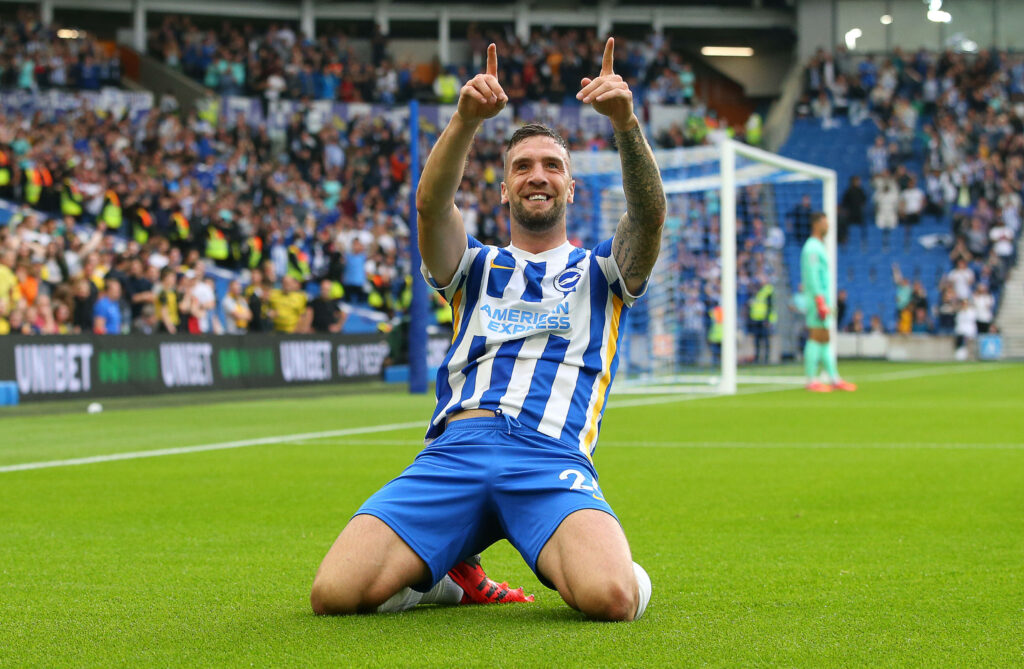 After a less than successful loan at Celtic last season, Shane Duffy returned to Brighton & Hove Albion with his future at the club very much up in the air.
His work in the pre-season and subsequent performances in the Premier League have put all doubts to bed, though, as he has slotted right into the side as Ben White's positional replacement.
The Irish international scored a very good goal against Watford in the first competitive game of the season at the Amex Stadium to open the scoring for his side.
The main responsibility of his position as a centre-back is defensive, and he has excelled in that regard too with a league-topping 19 aerial duels won at a 70.4% success rate and 29 clearances (another category where he is the best in the competition).
The ex-Everton man also looked composed with the ball at his feet, racking up 248 touches and completing 189 passes at a 95.5% completion rate.
LCB: Virgil van Dijk
Virgil van Dijk made his first competitive appearance on the opening day against Norwich after picking up that season-ending ACL injury in the Merseyside derby very early on in the 2020/21 season, but his performances so far would make you think he didn't even miss a minute.
Besides the defensive solidity he has added (underlined by his 21 clearances and 14 aerial duels won), van Dijk's sweeping long crossfield balls have also shown what Liverpool were missing last season from their centre-backs in possession.
The Dutchman has also been tidy with his passing overall, completing 181 with a success rate of 91.4%.
LB: João Cancelo
There weren't too many natural left-backs who stood out on the first three matchdays, so our XI will have to accommodate João Cancelo in what can be described as his secondary position.
He has spent only a match and a half in the left-back position, but his performances on either side of a back-four warrant a place in this side.
The Portuguese full-back did all the simple things behind Manchester City's star-studded attack to perfection – completing 227 passes in 295 touches alongside 222 carries, completing 6/7 take-ons and helping his side get into the opposing penalty area on 13 occasions through both passing and carrying.
To add to that, he also contributed with 8 SCA (Shot-Creating Actions) and returned with an xA of 0.6, while helping his defence with a league-topping 4.51 interceptions per 1,000 opposition touches.
RM: Mason Greenwood
Manchester United's signing of Cristiano Ronaldo has raised many questions on a sporting level alone, and one of those pertains to the game time Mason Greenwood will get this season because the teenager is absolutely flying right now.
He is one of just three players to score on every matchday so far (you'll see the other two soon enough) and has the joint-highest xG overperformance in the league at 2.1 for his three goals.
That can often point to a run of good fortune in front of the net, but in Greenwood's case, the quality of his finishing has also had a role to play because his xGOT (Expected Goals On Target) outweighs his xG at 1.03.
Therefore, all indications are that he can continue to score at a very quick rate throughout the season, with the obvious caveat that he gets the required match time.
RCM: Pierre-Emile Højbjerg
As mentioned earlier, Tottenham are the only side in the league with a 100% record as they won all of their matches with a 1-0 scoreline, and midfielder Pierre-Emile Højbjerg's performances proved key in those tight games.
He was simply superb in their Matchday 1 clash against Man City as he effectively shut down their entire left flank, but also impressing going forward as he helped his side counterattack on numerous occasions.
The Danish international's defensive work was obviously most impressive throughout the month as he managed 16 tackles and interceptions and applied 56 pressures, but he also helped in terms of creating chances with 7 SCA.
LCM: Yves Bissouma
Brighton have once again kicked the season off by playing some very exciting football, and one of the key players in their system is defensive midfielder Yves Bissouma.
The Malian international is second-best in the league in terms of tackles as well as interceptions both per 1,000 opposition touches with 4.38 in each, adding to his 15.02 recoveries in the same dataset.
His passing has not been bad either, as he has completed 147 at a success rate of 89.1%. The 25-year-old midfielder has an assist for his troubles too, which, fittingly, came from a defensive action high up the pitch.
LM: Paul Pogba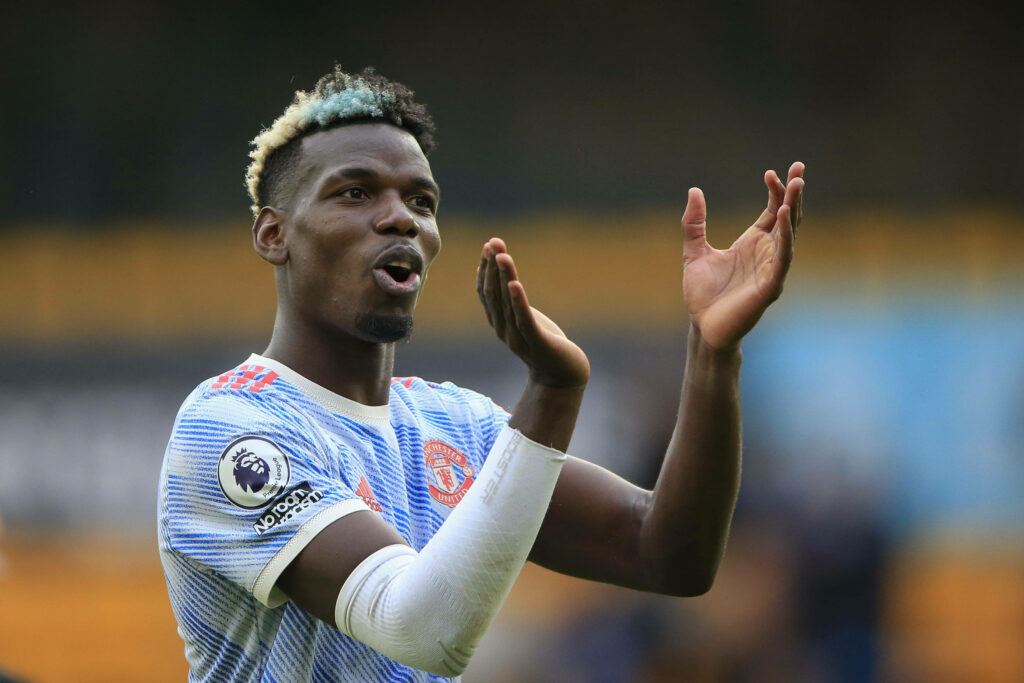 When each side has only played three matches, it is possible to make the TOTM on the back of just one stellar performance, and that absolutely is true in the case of Paul Pogba.
The French international was simply unstoppable against Leeds United on Matchday 1 when he was operating on the left-wing, when he outdid his league assists tally from 2020/21 by setting up four goals.
That alone would have been enough to make him the league's top creator, but he went and added another against Southampton.
Admittedly, all of this has come from just 0.9 xA, so this rate of assisting is absolutely not sustainable, but let's just enjoy it while it lasts.
RST: Dominic Calvert-Lewin
A wise man once spoke of scoring goals like Calvert-Lewin, and those words are proving very relevant so far this season.
The English international is the second player in our XI to have scored on each of the matchdays so far, although the penalty spot has aided him on two occasions.
Taking the spot-kicks out of the equation, the 24-year-old forward has amassed a league-high npxG (non-penalty Expected Goals) tally of 2.3, so he certainly is doing the right things to keep the goals rolling in even if his supply of penalties is cut off.
To add to that, he has helped his fellow attackers with eight SCA so far.
LST: Michail Antonio
West Ham United are flying high in second place right now, and their main engine is recently-crowned all-time Premier League top goal-scorer Michail Antonio.
The 31-year-old forward is not only top of the scoring charts with four strikes, but is also joint-second in the assists category with three, which makes his seven goal involvements the best in the league.
He is also the best in the competition in terms of goal-ending open play sequence involvements with 8, while 2.5 xG and 1.2 xA does not make for bad reading either.
In short, he's simply unplayable right now, and he also has the end-product to show for his efforts.
Final XI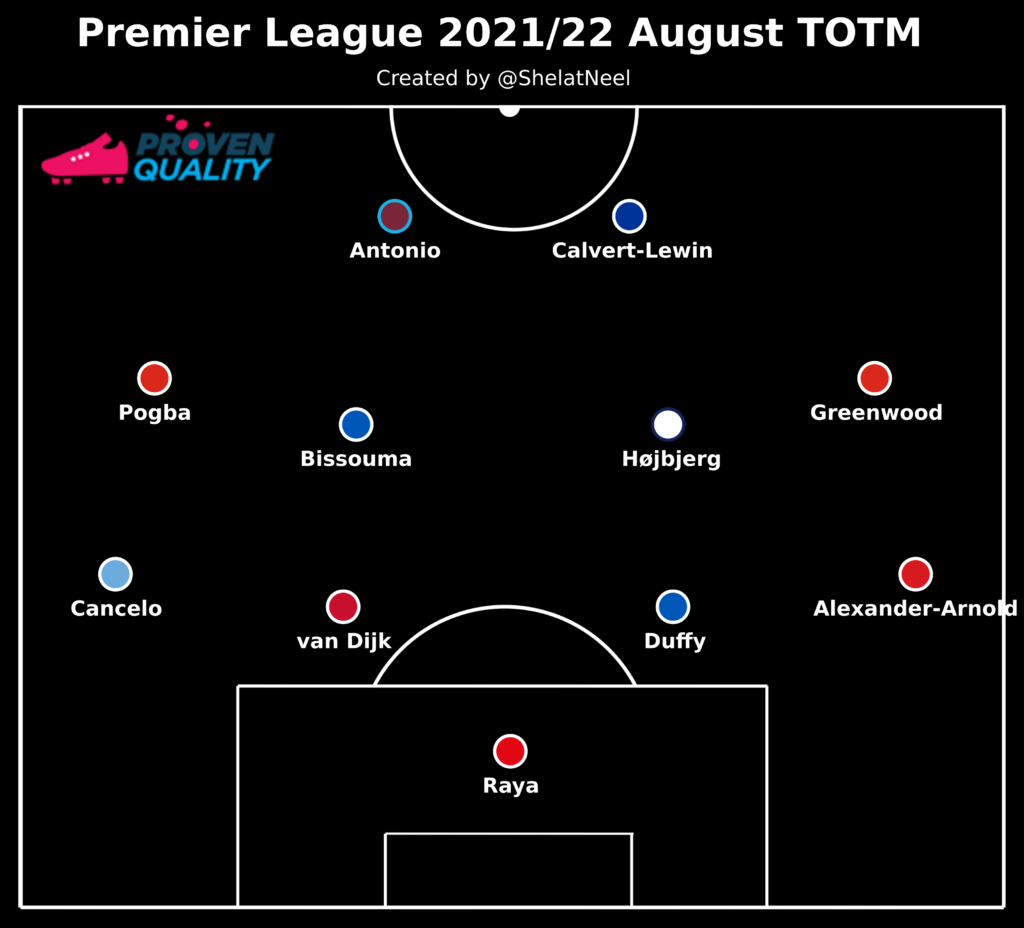 Stats courtesy Fbref, FotMob and The Analyst.