On December 2, 2021, Cristiano Ronaldo hit his 800th (and 801st) goal of his career in a Premier League match at home to Arsenal.
800. Eight hundred. Eight zero zero. Can we all take a moment to appreciate how utterly obscene that is? Most players don't even play that many games in their career.
Having hit this sensational milestone, it's difficult to narrow it down. But here are our picks for the ten most memorable goals of Cristiano Ronaldo's career.
1) vs Portsmouth (Premier League, 07/08)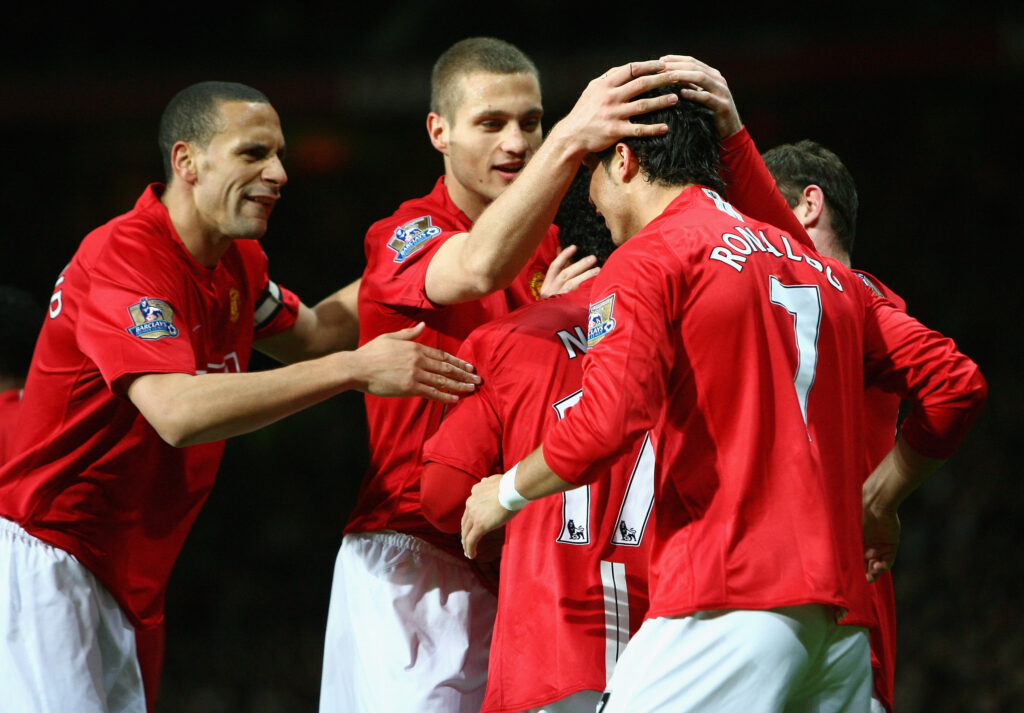 Over his entire career, Ronaldo has scored 56 goals directly from free-kicks. None were better than this one.
In the tenth minute of a league fixture against Portsmouth, the Portuguese lined up a set piece from 30 yards before unleashing an unstoppable strike into the top corner.
He would add a second just three minutes later, as Manchester United won 2-0.
2) vs Chelsea (Champions League, 07/08)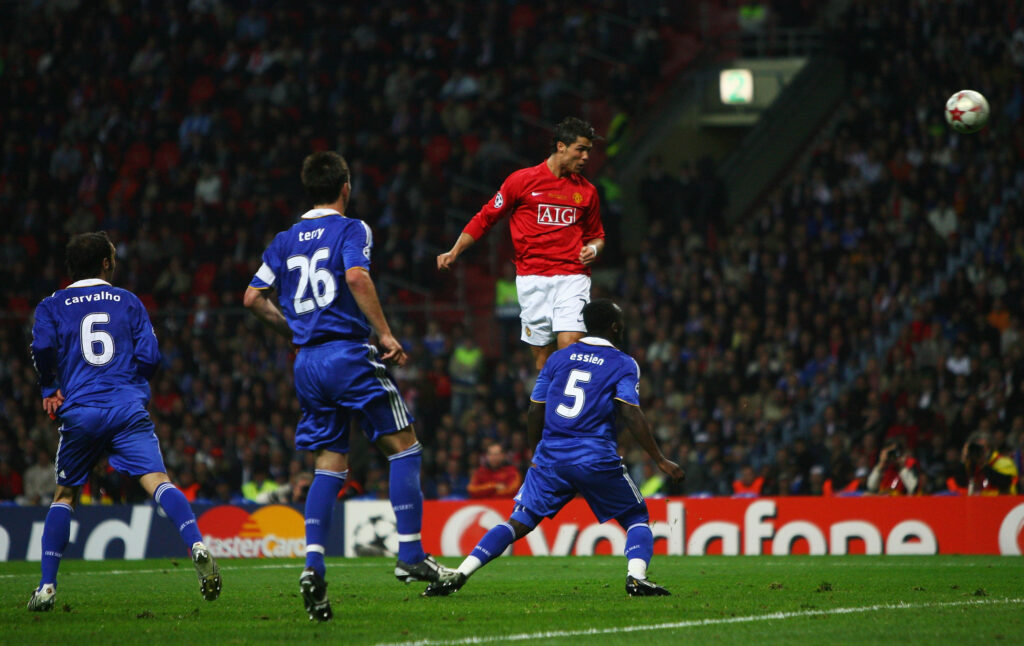 The forward is known by some as 'Mr. Champions League', given his exceptional record in Europe's biggest club competition.
It all began against Chelsea in May 2008. Wes Brown whipped in a cross, and Ronaldo leapt highest and planted his header into the bottom corner to give the Red Devils the lead.
Despite missing his penalty in the shootout, Ronaldo ended the night with a winner's medal around his neck. He would later lift his first of five Ballon d'Or awards.
3) vs Porto (Champions League, 08/09)
In the early stages of Man Utd's quarter-final second leg against Porto, the former Sporting CP man hit a strike that even fooled the TV operators.
From around 40 yards out, he somehow found the top corner to put his side in front. The score remained 1-0, ensuring their progression on aggregate.
4) vs Barcelona (Copa del Rey, 10/11)
In his early days at Real Madrid, Ronaldo had the misfortune of directly competing with arguably the greatest club side ever seen – that side being Pep Guardiola's Barcelona.
But he managed to get his first trophy in a Los Blancos shirt in April 2011 up against their arch-rivals.
In extra time, Angel Di Maria swung in a cross, and the world record signing unleashed a glorious header into the top corner to seal the Copa del Rey title.
5) vs Barcelona (La Liga, 11/12)
And he was back to haunt Barcelona again a year later, this time effectively sealing his first La Liga title.
Real Madrid went into their fixture at the Camp Nou, knowing that a win would put them seven points clear at the top with just four games remaining.
Sami Khedira gave them the lead in the first half, but Alexis Sanchez bagged an equaliser with 20 minutes to go.
Up stepped Ronaldo to put his side back in front. Mesut Ozil found the forward with a brilliant through ball, and he did the rest with a finish at the near post.
Los Merengues would go on to win their final four games of the season to lift the title, with Ronaldo scoring in all four. They ended on 100 points – a La Liga record.
6) vs Sweden (World Cup qualifiers, 2013)
Portugal were at risk of missing out on the 2014 World Cup, having finished second in their group behind Russia. They were drawn in a play-off against Sweden in a tie that was billed as 'Cristiano Ronaldo vs Zlatan Ibrahimovic'.
And…yeah, that's pretty much what it was. The first leg finished 1-0 to Portugal, with Ronaldo netting the winner. The second leg was far more lively.
When the Real Madrid man opened the scoring in the reverse fixture, Sweden looked down and out. But Ibrahimovic pulled them back with a brace, leaving his side behind on away goals only.
But all hopes of an incredible comeback were put to bed in the final 15 minutes. Ronaldo was twice played through on goal and converted both times to complete a magnificent hat-trick.
7) vs Hungary (Euro 2016)
2016 was arguably the peak of Ronaldo's astonishing career. Just months after scoring the winning penalty in the Champions League final against Atletico Madrid, he captained his country to their first-ever piece of silverware.
But things could have gone so differently that summer. After drawing their opening two group stage games against Iceland and Austria, Portugal went into their last match against Hungary knowing that a defeat would mean an embarrassing early exit.
It was a thrilling game. Hungary took the lead on three separate occasions, but Fernando Santos' men were able to fight back all three times. Ronaldo himself starred, scoring two and assisting the other.
The pick of the goals came early in the second half. Joao Mario crossed in for Ronaldo, and he flicked the ball into the far corner with a beautiful backheel.
8) vs Juventus (Champions League, 16/17)
In the 2016/17 season, Real Madrid became the first-ever side to win back-to-back Champions League titles. And frankly, it was primarily down to Cristiano Ronaldo.
The Portuguese had scored five goals in the quarter-finals against Bayern Munich and had bagged a hat-trick in the first leg of the semi-finals against Atletico Madrid.
The final came in Cardiff against Juventus, and he unsurprisingly stepped up to the plate again.
He opened the scoring from Dani Carvajal's cutback in the first half, but a stunning goal by Mario Mandzukic levelled the scores.
Casemiro's deflected effort put Zinedine Zidane's side back in front, and Ronaldo effectively settled the result with his second from Luka Modric's cross.
Marco Asensio added a late fourth, giving Real Madrid their third Champions League title in four years.
9) vs Juventus (Champions League, 17/18)
Just under a year later, Ronaldo once again punished Juventus in the Champions League with another staggering display. This time, he netted a brace and got himself an assist in a 3-0 victory at the Allianz Stadium.
As annoyed as they may have been, the home fans could do nothing but applaud as the forward scored a sensational bicycle kick for his second of the game. It is widely regarded as his greatest ever goal.
10) vs Spain (World Cup, 2018)
At the World Cup in 2018, Spain and Portugal served up an absolute classic, and Ronaldo was the centre of attention. He scored twice in the first half, either side of a Diego Costa strike to give his side the lead going into half time.
When Costa got his second, and Nacho Fernandez scored a beauty, it seemed as if Spain were heading for all three points in their opening group stage game.
But they were thwarted in the closing stages when Ronaldo completed his hat-trick with a free-kick into the top corner.
Read also: 8 times a club legend became manager.