Liverpool fans famously sing about Mohamed Salah running down the wing, but their Egyptian King quite obviously also turns up in the box very often.
This is a key reason for his recently-attained status as the joint-highest African goal-scorer in the Premier League with 104 strikes so far. He is level with Didier Drogba, who, despite being an out-and-out striker, took 88 more matches to reach that tally.
However, our focus will not be on Salah's overall exploits in England, as we will be taking a much closer look at his scintillating start to the 2021/22 season which has seen him shoot to the front of the Golden Boot race with seven goals and hold the joint-second spot in the assists chart with four.
To add to this, he also has three Champions League goals in just a couple of outings but, as the title suggests, our focus will solely be on his work in the Premier League.
The numbers are all very nice, but to truly understand Salah's quality you have to see some of his work:
Exhibit A – his assist for the opener against Manchester City, where he created a glorious opportunity out of next to nothing.
When he received the ball right next to the touchline inside his own half, he was surrounded by opponents in every direction, so passing seemed the only feasible course of action.
Or perhaps not, as he ghosted past João Cancelo with incredible ease…
…before setting up Sadio Mané with a perfect through ball that rendered both City centre-backs useless in that situation.
That was good enough to make this a memorable match, but in contrast to what the ex-Chelsea winger did thereafter, it was so easily forgettable.
Salah received the ball outside the box with his back to goal and opposition defenders all around him, so initially he did an excellent job to control it.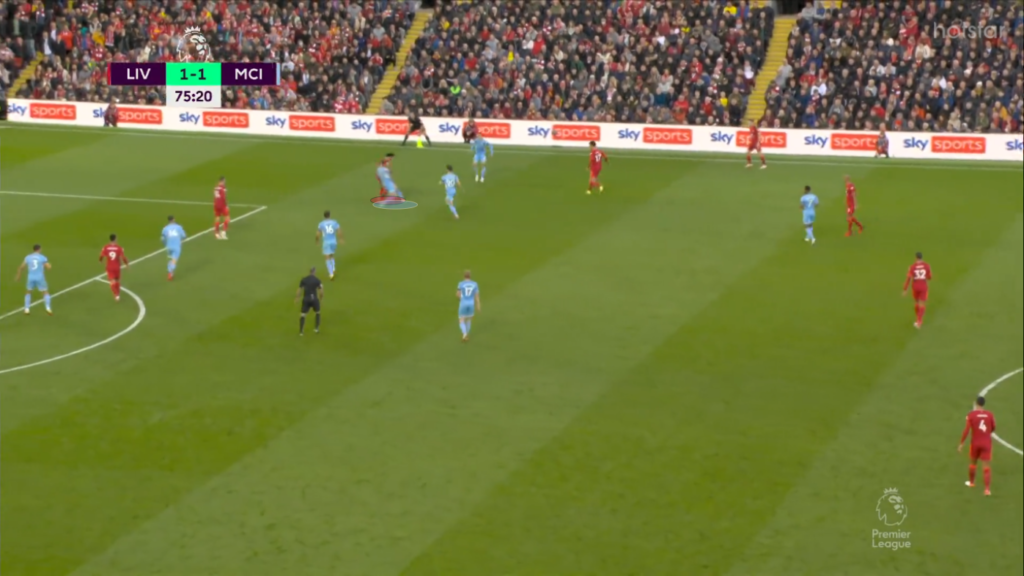 Then that was where the fun began. First of all, he waltzed his way out of a tight spot with three opponents around him thanks to his clever footwork.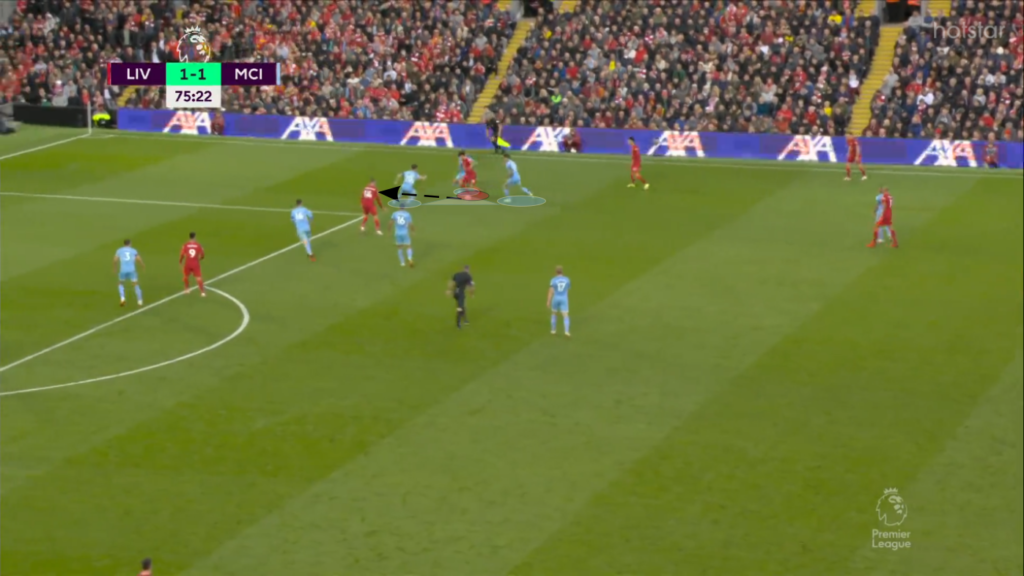 But even that did not open up any real space for him, as he found himself face-to-face with Aymeric Laporte and Rodri after entering the box from the right. Nonetheless, Salah shaped up to shoot…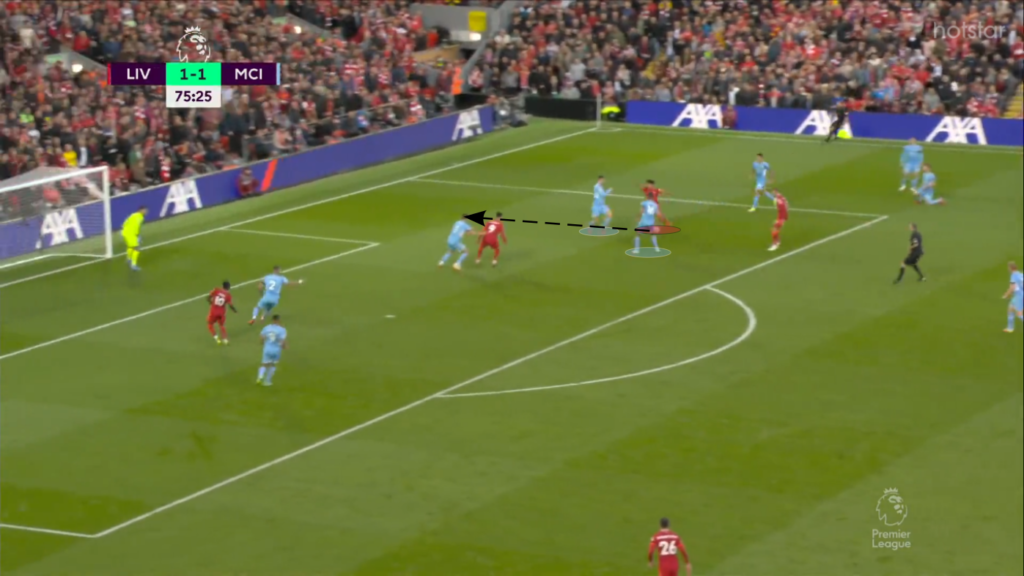 …but then chopped onto his 'weaker' right foot and found the far corner from the tightest of angles.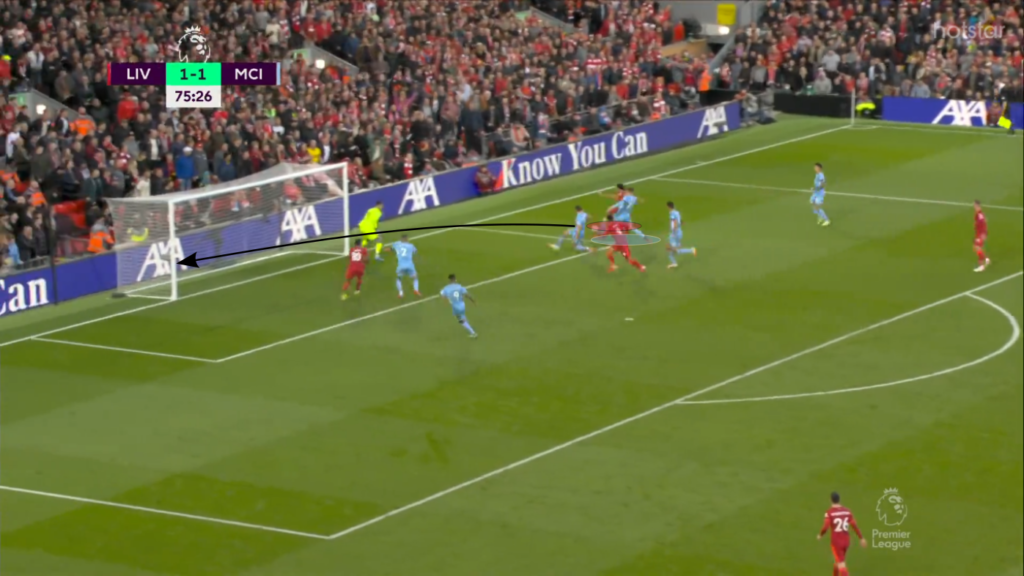 After a quick international break, Salah was back at it for Liverpool. He scored a similar solo goal against Watford (although this time he faked to shoot with his right before finishing with his left) after once again setting up Mané for the first goal of the match with an outrageous outside-of-the-foot pass.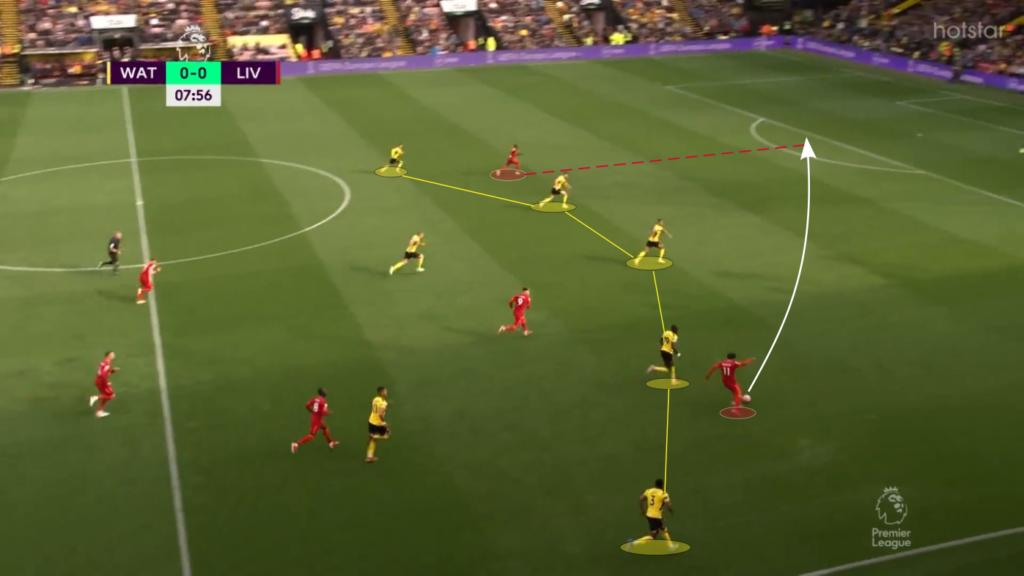 That should be all for pleasing aesthetics for now; let's take a closer look at some of the data to understand just how good Salah has been:
First up – his shooting profile. Unsurprisingly, most of his goals have come from the right, and his shooting is quite congested in the box, which indicates that he takes very good shots in terms of chance quality.
Given that Salah's shots have primarily been taken on the right side of the box, we can also see that the overwhelming majority of his successful finishes have been aimed at the far corner.
He scores all sorts of goals, a fact which is backed up by the varied shot locations. Apart from the incredible solo strikes that we have already discussed, the Egyptian international has netted through curlers from the edge of the box…
…close-ranged tap-ins following some smart movement…
…and chasing long balls played in behind the opposition defence.
His underlying numbers also look quite good – Salah is third in the Premier League xG charts with 4.8 at the time of writing, while his xGOT (Expected Goals On Target) is at a very healthy 5.05.
His seven goals are indeed a result of some overperformance, but even if his shooting regresses the Liverpool forward should be able to keep putting up some excellent numbers. That is because of his high-quality shooting:
This scattergram compares the top shooters in the 2021/22 Premier League in terms of their npxG (non-penalty Expected Goals) per Shot and Goals per Shot, with the two metrics giving a rough indication of each player's chance quality and conversion rate respectively.
Once again, it shows that although the quality of chances Salah has been supplied with has been around average, his conversion rate is superb.
Scoring is not the only thing that the Egyptian international is good at, though — he has an eye for playmaking too.
As aforementioned, he has four league assists so far this season, which come off the back of a league-high xA (Expected Assists) tally of 3.3.
He also has the most GCA (Goal-Creating Actions) in the league with 12, while standing second in terms of SCA (Shot-Creating Actions) with 43.
With 20 chances created, Salah is the fourth-best in that regard in the league, and as is evident in the visualisation below, his methods of chance creation are very diverse.
In terms of zones, he unsurprisingly looks most threatening in the right half-space, whether inside or just outside the box, although he does also pose a threat from deeper and wider areas via through balls.
Aside from direct involvements on the scoresheet, Liverpool's star winger also helps the Reds in various other ways.
With a league-high 91 progressive passes received so far, he helps them get the ball forward by moving into excellent areas of the pitch.
Nobody in the Liverpool squad comes close to his 18 dribbles completed at a 51.4% success rate either, and 52 progressive carries place him just three off the top spot in that category among his teammates, while he is again the best at carrying the ball into the penalty area with 15 such entries recorded.
Finally, the ex-Roma man is a hard worker off the ball, as his 122 pressures applied have not been matched by any of his Liverpool compatriots, and his 28.7% success rate is not bad by any stretch of the imagination.
Quite clearly, Salah is in the form of his life not just in terms of goal-scoring but in almost every aspect of the game, and his underlying numbers show that he could be able to sustain a similar level of performance throughout the season.
Liverpool fans will surely be hoping for that because in such a tense and closely-contested title race, world-class players like Salah can often provide that decisive edge to their side.
Stats courtesy Premier League, WhoScored and Fbref.