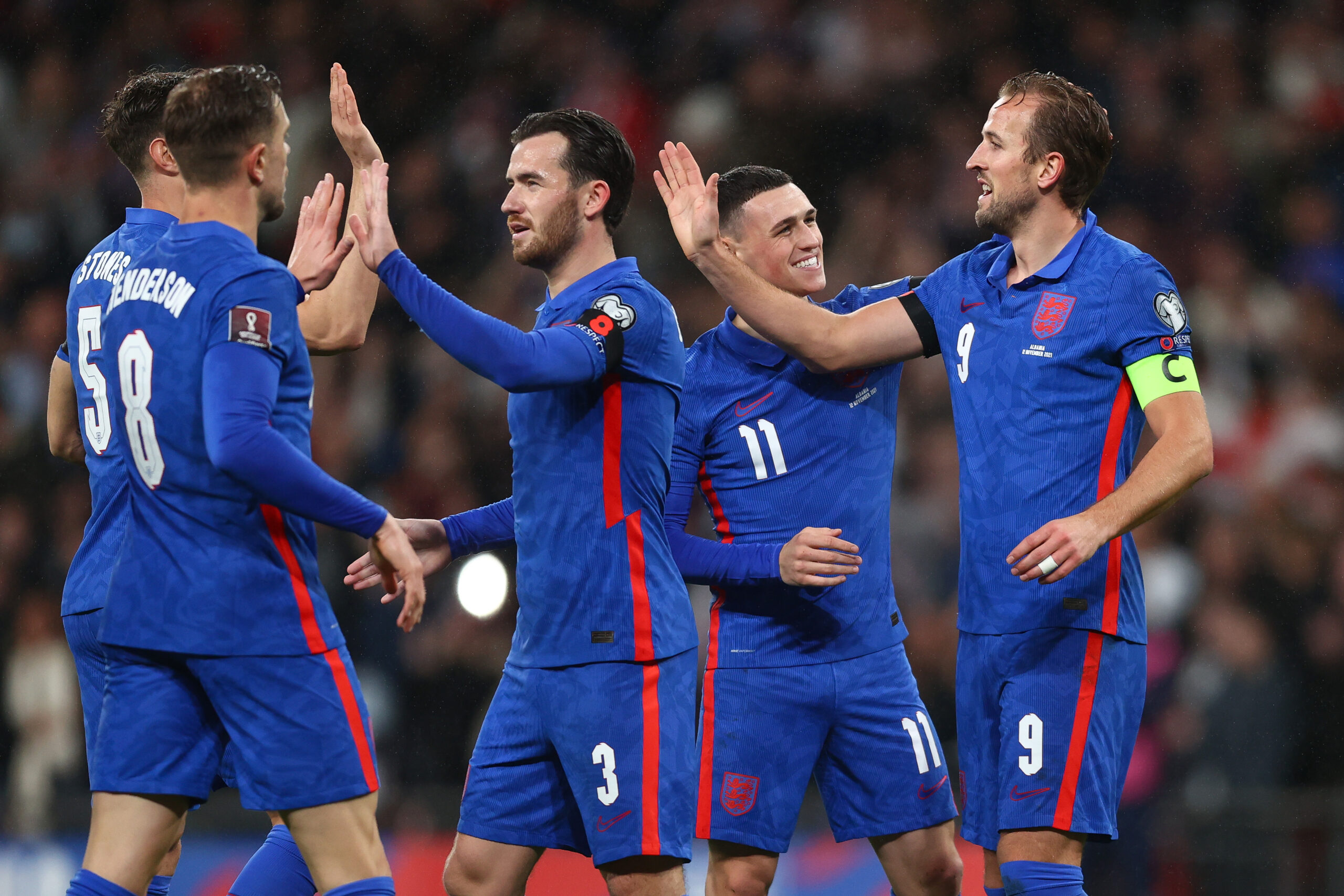 It was a comfortable Friday night at Wembley, as England effectively guaranteed themselves a place at the World Cup in Qatar with a thrashing of Albania.
It took just nine minutes for the Three Lions to open the scoring. Reece James' free-kick found the head of Harry Maguire, who nodded home at the back post for his third international goal in five appearances.
And it wasn't long before it was 2-0. Jordan Henderson clipped a cross into the six-yard box, leaving Harry Kane with the simplest of headers for his 42nd England goal.
The roles were reversed ten minutes later as Kane turned provider for Henderson. The captain flicked the ball into the path of the Liverpool man, who weaved into the box and finished into the bottom corner.
Gareth Southgate's men were far from finished there, as they grabbed themselves another two goals before the break. Kane grabbed his second when he fired in a left-footed finish from Raheem Sterling's through ball.
And then he secured the fourth hat-trick of his international career in fine fashion. Phil Foden's corner reached Kane, and he unleashed a scissor kick into the back of the net via a deflection.
The treble leaves him on 44 England goals – a tally bettered by only Wayne Rooney, Bobby Charlton and Gary Lineker.
There was little else to talk about in the second half. The hosts took their foot off the pedal and played out a comfortable 5-0 win.
Although there was a debut for Arsenal youngster Emile Smith Rowe, who came on for Sterling in the 77th minute.
England now go into the final game against San Marino – the lowest ranked side in the world – knowing that a point will secure their qualification for the World Cup.
Here are the biggest takeaways from the game.
Not as defensive as you might think
When the line-up was released, the fans weren't too excited. Five defenders, two defensive midfielders, only three attacking players – setting up like this at home to Albania? Really Gareth?
But then the game kicked off, and England started banging them in. Sure, it was 'only Albania', but it was an impressive performance nonetheless.
The truth is, the system was never that defensive in the first place. On paper, it may look like Southgate has put out eight defensive players.
But in a back five, the wing-backs get forward. Reece James is Chelsea's top scorer in the league, and Ben Chilwell is just one behind. They contribute plenty going forward.
It's been like this since Southgate took over. At the World Cup in 2018, Kieran Trippier was the main source of creativity.
And at the European Championships this summer, Luke Shaw ended the tournament with a goal and three assists.
Meanwhile, Henderson certainly played his part going forward. The 31-year-old found himself in the box on several occasions, and he managed to grab himself a goal and an assist.
You can be critical of a manager's decisions. Everyone has their opinions. But maybe save the meltdown for after the game next time?
Harry Maguire's celebration
Since returning from injury last month, Maguire has not had the best of times. He had a nightmare game against former club Leicester City, got torn apart by Liverpool, and was humiliated against Manchester City.
His inclusion in the England squad was a point of debate. He'd been good for the Three Lions in the past, but he's wildly out of form. Is Southgate picking on reputation instead of form?
When he opened the scoring in the ninth minute, the £85 million man let people know exactly what he thought.
He ran to the corner and stuck his fingers in his ears, implying that he is not listening to the critics. Roy Keane was, rather unsurprisingly, not impressed.
Maguire gets a lot of stick – far more than the average footballer. He's entitled to give a bit back.
However, it's a qualifier against Albania. It's not the World Cup final. If anything, he's given the haters and trolls more ammunition with this act.
Manchester United fans aren't going to care about what you do in near-meaningless games for England against lesser opposition.
You wanna shut those critics up? Start performing consistently at the highest level, THEN you can stick your fingers in your ears. Until then, keep your head down and your mouth shut.
Kane looking as sharp as ever
Well, we're talking about Harry Kane again. Fun.
Kane's last few months have been an absolute rollercoaster. Winning the Premier League Golden Boot AND Playmaker Award in the same season, captaining England to the Euro 2020 final, losing said final, failing to force through a move to Man City – it's been eventful.
And the result of it all has been a disastrous start to the 2021/22 campaign. In ten Premier League appearances, the striker has netted just one goal.
His performances have led to many calling for him to be dropped. He's not on form, so why not give someone else a go? Is Southgate picking on reputation again?
But Kane justified his manager's loyalty with one of his finest displays in a while. He bagged a 'perfect hat-trick', scoring with his head, left foot and right foot.
It was more of a traditional number nine's performance. Instead of constantly dropping deep as he has done over the last couple of years, he stayed in and around the box most of the time.
It shouldn't come as a surprise that he's scored more goals because of it.
There are benefits to Kane's dropping deep – have a look at the equaliser England got against Denmark or their opening goal against Italy. He's an excellent long passer, and this role allows him to make the most of it.
However, the Euro 2020 runners-up already has plenty of top-class playmakers. They don't have as many proven goalscorers. Perhaps he's better suited to this role.
And again, it is 'only Albania'. But if this is the game that can get Kane's confidence going and spark him back into life, Tottenham Hotspur fans will be very grateful.
Jordan Henderson stakes his claim for a starting spot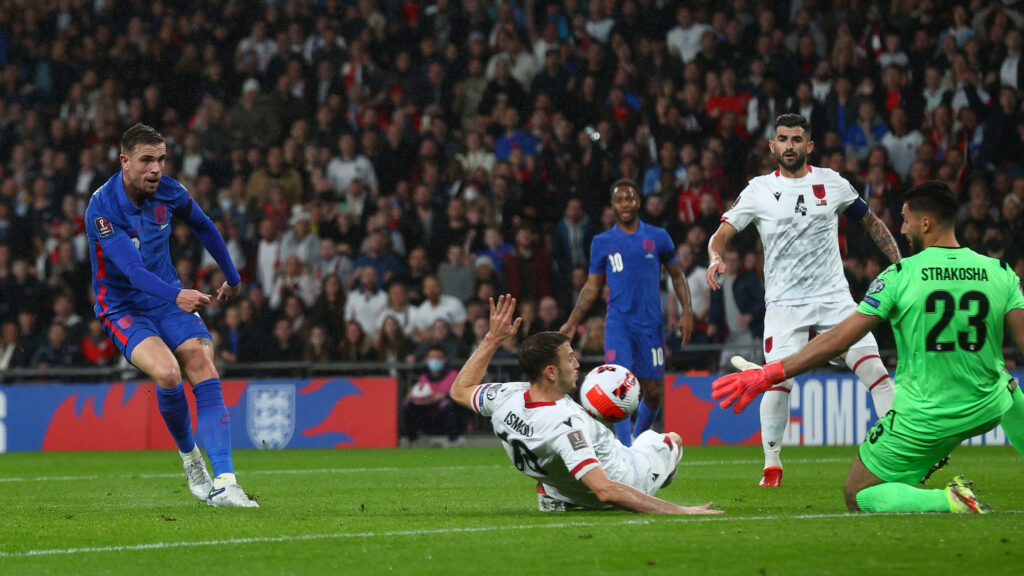 The delay of Euro 2020 hindered Henderson massively. He was set to go into the tournament off the back of his best-ever season and would have almost certainly been a starter.
Instead, he was in a race against time to get fit for the competition. He was selected in the end, but Southgate preferred the pairing of Declan Rice and Kalvin Phillips in central midfield.
When those two performed excellently during the summer, it seemed as if Henderson's time in an England shirt could be coming to an end.
On Friday, he reminded everyone that he's not going down without a fight. He grabbed himself a great assist for Kane and then bagged an even better goal.
Competition for places in central midfield is fairly high. Rice and Phillips will continue to make their case, while the likes of Jude Bellingham and James Ward-Prowse will also put the pressure on.
But if Henderson can keep putting in performances like this one, he may be able to work his way back into the starting XI for the World Cup in Qatar.
Read also: Ranking Premier League managers by their playing career.