One of the more intense battles of the countless London derbies that will headlines the Premier League this season featured Arsenal and Chelsea, two clubs going on very different trajectories both in the short term and in the long run.
The Gunners' poor 2020/21 season not only saw them miss out on any silverware or a top-four finish, but they couldn't even book a spot in any of the other two continental competitions set to take place in 2021/22.
They then went and splashed a fair bit of cash on new signings in the summer transfers window as they outspent all of their domestic compatriots.
However, they were missing marquee signings Ben White and Martin Ødegaard for this match, along with key starters including Héctor Bellerín, Gabriel, Alexandre Lacazette and Pierre-Emerick Aubameyang (who only made the bench).
All of that in a big match that came after their opening-day defeat to newly-promoted Brentford.
Chelsea, meanwhile, strengthened with the signing of Romelu Lukaku after a Champions League success under Thomas Tuchel, who was now setting his eyes on the Premier League prize.
A dominant victory against near-neighbours Crystal Palace was the perfect way to start, and this was a big chance for them to deliver a statement of intent, especially with their club-record signing finding a spot in the line-up.
There weren't any real selection surprises elsewhere apart from the fact that Mason Mount started on the right of Chelsea's attack with Kai Havertz on the left and Timo Werner only on the bench.
It was the man in the middle of it all who stole the show, though, as Romelu Lukaku had a near-perfect return to Chelsea with a goal and a derby win on his second debut, so let us take a closer look at his performance.
Starting with his off-ball work, Lukaku was on the right of a front-two for Chelsea in a 3-3-2-2 high block, which had plenty of man-marking going on up front.
His job was to prevent Pablo Marí from having too much time and space on the ball, and he did fairly well, though he wasn't really tested.
Unfortunately for Marí, this was only the start of Lukaku's proximal relations with him. In possession, Chelsea used their familiar 3-2-5 with Lukaku in the centre of the front line while Mount and Havertz roamed to the right and left of him.
In this position, the Belgian striker actively targetted Marí, looking to engage him whenever possible.
His very existence also attracted the attention of the rest of the Arsenal defence (a concept often referred to as 'gravity'), freeing up space for his fellow attackers.
In this case, for example, Rob Holding was forced back, leading to Havertz finding a lot of space in front of him to get on the end of a lay-off, although this time his shot was blocked.
This sort of pass into Lukaku's feet with his back to goal was the main route of Chelsea's attacks, and it was simple yet extremely effective.
The opening goal also came that way.
After attracting four opponents with his incredible gravity, Lukaku cushioned the ball back to Mateo Kovačić.
Because of the number of players that rushed towards Lukaku, Arsenal's defence was slightly disarrayed. Granit Xhaka was one of those in the crowd, and as he left his man (Mount), Kieran Tierney had to fill in centrally.
All of this left Reece James with acres of space on the right, who was found with a simple long ball. Meanwhile, having dragged his marker out of position, Lukaku could now make the movement to exploit the space behind.
Now, this is a bit of a tactical disaster on Mikel Arteta's part because a back-four against a five-man front line (especially one which revolves around a man of Lukaku's calibre) is a recipe for disaster unless the wingers track back to perfection, but that is a separate story altogether – one which we will not dive too deep into here.
The ex-Anderlecht forward then outpaced and outmuscled Marí (who was left on a heap on the ground), and with his headstart on the rest of the Arsenal defence, there was no stopping him from tapping in an easy goal. The finish was child's play; the build-up was world-class.
On paper, Lukaku got no credit for Chelsea's second goal, but he was instrumental here too. This time, his intelligence came to the fore.
With the Arsenal defence in a disorganised state once again, the ball was played into the Belgian international's feet from the wings, and he seemed to have a bit of space.
However, he recognised that the opposition defence was biased to their right as he pulled a centre-back with him, while Chelsea had a 2v1 behind his back as Tierney had Mount and James to contend with.
Showing great awareness, the ex-Manchester United forward let the ball run through his feet and reach Mount.
Tierney came inside to deal with the man on the ball, leaving James free out wide. Mount found him with a perfectly weighted pass, and he smashed his finish into the top corner.
Overall, Lukaku had a great game statistically. He managed 43 touches (7 of which came in the opposing penalty area), won 8 duels, completed 2 of 3 three attempted dribbles and all but one of his 20 passes, created 3 chances thanks to his lay-offs, which brought an xA 0.14, and fired 8 shots, 2 of which were on target.
His touchmap was a familiar sight – he dominated the right channel and often dropped deep to help his side out of their own half (getting two opponents including his marker booked in the process) besides having a notable presence at the very sharp end too.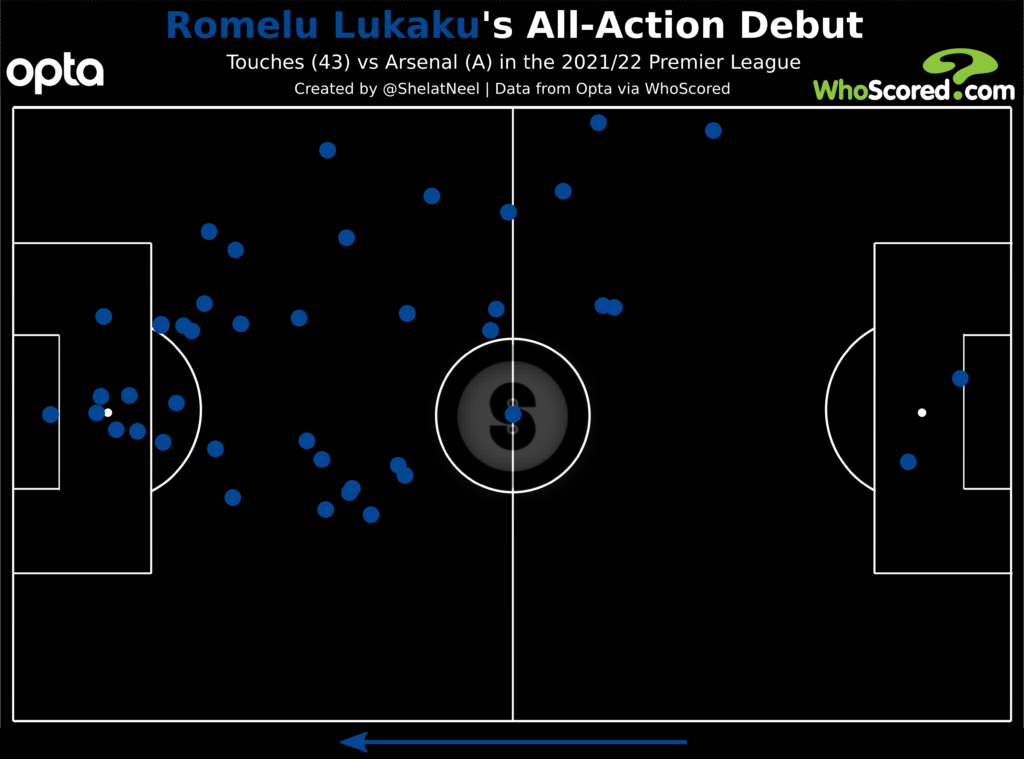 A closer look at his shooting shows that the Belgian forward did well in that department too. Although half of his efforts were blocked, he came close to scoring on two occasions apart from his goal.
He could well have had a brace but for a miraculous save on Bernd Leno's part. His xG translation rate (conversion of xG to xGOT) was not bad either at 90.07%.
In truth, this performance exemplified all the qualities of Lukaku since his transformation under Antonio Conte at Inter – tremendous hold-up play and link-up play, superb intelligence and awareness, power and purpose in his movement, and clinical finishing ability to cap it all off.
There certainly are many better centre-backs than Marí across the Premier League, so not everyone will be bullied to this extreme extent by the big Belgian forward.
With that being said, though, even the very best of the best Serie A defenders struggled against Lukaku, so you would have to back him against almost anyone.
He will be a real menace, and looking at how he almost instantly clicked with his teammates, he could well be right in the mix for the golden boot race.
Chelsea play Liverpool next weekend, so we may well get to see Lukaku come up against Virgil van Dijk. That will be a real clash of titans – something you absolutely cannot afford to miss.
Stats courtesy WhoScored and FotMob.