For some reason, the 700+ goals and six Ballon d'Or awards haven't been enough to convince everyone that Lionel Messi is all that special.
Some argue that he needs to prove himself in the Premier League before we can really call him the GOAT.
Forget about the likes of Sergio Ramos and Pepe – the real test is breaking down Ben Mee and James Tarkowski.
Well, he hasn't done it on a wet and windy night in Stoke yet, but he has faced English sides on multiple occasions in the Champions League – and his record is spectacular.
In 35 appearances, the Argentine has recorded 27 goals and six assists.
In honour of this absolute magician, we've decided to rank these 27 goals. Enjoy.
27) First vs Liverpool (May 2019)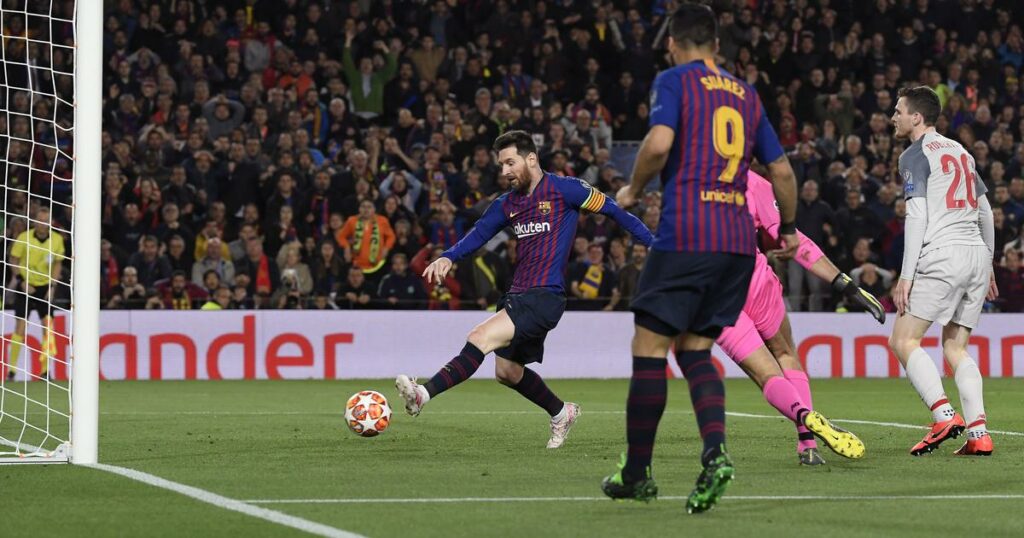 A contender for the ugliest goal of his career. Some scrappy build-up play sees the ball fall to Luis Suarez, who strikes the bar against his former club. It drops kindly for Messi, who is left with a tap in.
What followed seven minutes later was far more impressive, but more on that later.
26) Second vs Manchester United (April 2019)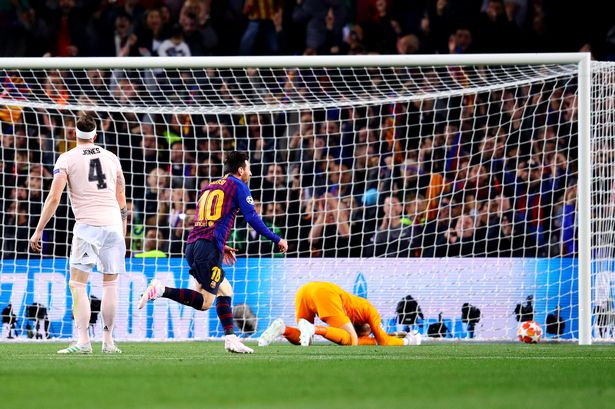 Having already put them one up four minutes earlier, the forward doubled Barcelona's advantage. In truth, it was a weak effort with his right foot that David de Gea ought to be thoroughly ashamed of.
25) First vs Chelsea (March 2018)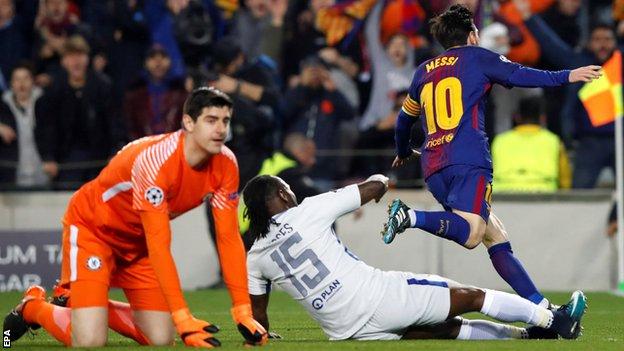 This one was something of an amalgamation of the previous two. Messi receives the ball after a few lucky bounces, and he squeezes it through the legs of Thibaut Courtois from a tight angle.
Credit for scoring from there with his weaker foot, but the goalkeeper will have been disappointed.
24) Second vs Arsenal (February 2016)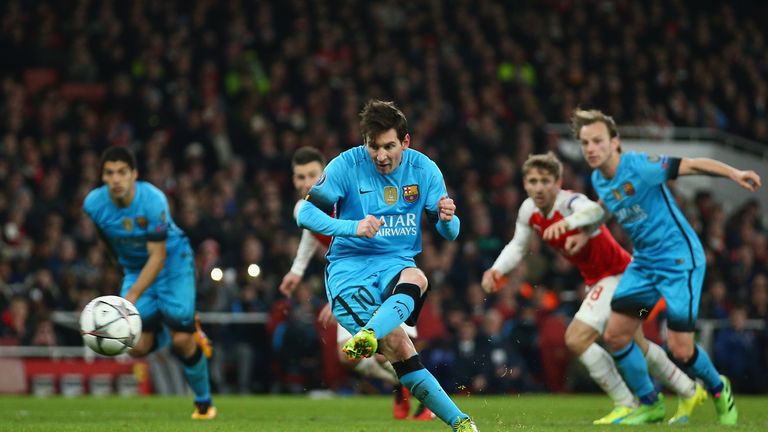 Penalties aren't a guaranteed goal – Messi himself will tell you that. But you'd still expect a forward of his calibre to score them more often than not. This one put Barcelona 2-0 up at the Emirates Stadium.
23) vs Manchester City (February 2014)
Another penalty on the list, this time at the Etihad Stadium. This one was to put his side 1-0 ahead, so a little bit more pressure on it.
22) Second vs Arsenal (March 2011)
The third and final penalty on the list. With the two sides level on aggregate going into the last 20 minutes, the Argentine casually rolled his spot-kick into the bottom right corner.
21) First vs Manchester City (October 2016)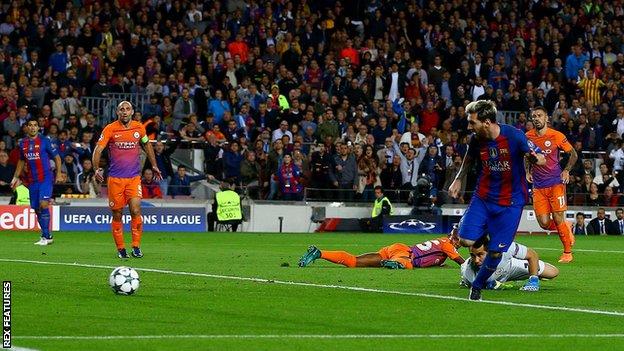 Fernandinho slipped at the crucial moment, and the rest of Man City's defence opted against moving. Still, a calm and composed finish from Messi gave his side the lead.
20) Second vs Tottenham Hotspur (October 2018)
It was the 90th minute, so perhaps you can forgive Spurs' defenders for standing still like statues. Even Hugo Lloris couldn't be bothered to narrow down the angles as Messi rolled the ball into the bottom corner for his second of the match.
19) vs Arsenal (March 2016)
With La Blaugrana 4-1 up on aggregate, Messi added another to his tally in the dying moments, taking advantage of some generous defending before lifting the ball over David Ospina.
18) vs Manchester City (March 2014)
A tidy finish to put the tie beyond all doubt. However, what Joleon Lescott was doing remains a mystery.
17) vs Chelsea (February 2018)
For a long time, the little genius was unable to score against Chelsea. This statistic ended at Stamford Bridge in 2018, when he clinically finished from Andres Iniesta's pass following an error in the Blues' backline.
16) Third vs Manchester City (October 2016)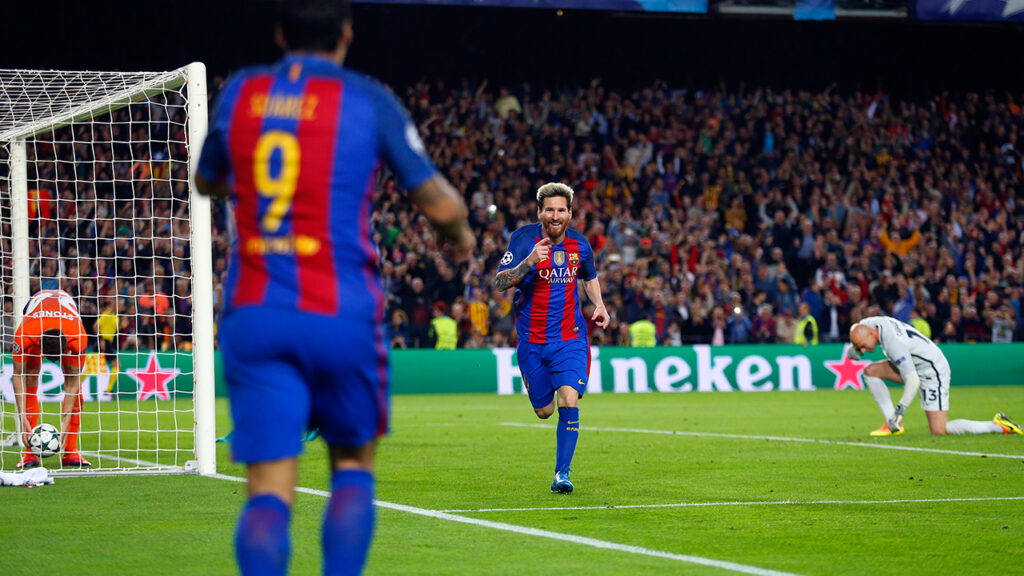 Luis Suarez rolls the ball across for Messi, who calmly slots into the bottom corner for his hat-trick. How many times have we heard that before?
15) Fourth vs Arsenal (April 2010)
Yep, FOURTH. The Argentine absolutely dismantled the Gunners in April 2010 and put the finishing touches on a generational performance with a powerful finish through the legs of Manuel Almunia from a tight angle.
14) Second vs Arsenal (April 2010)
15 minutes after netting the equaliser, the forward gave Barcelona the lead. He collected the ball from Pedro in the box and emphatically finished into the roof of the net with his right foot.
13) Second vs Manchester City (October 2016)
The second of his hat-trick against Man City in 2016 was probably the best of the bunch. Cutting inside onto his famous left foot, he delicately placed the ball in at the near post to double Barcelona's advantage.
12) First vs Arsenal (February 2016)
As an extension to his goal drought against Chelsea, Messi also took a while to bag his first goal against Petr Cech.
He broke his duck against the Czech Republic international by rounding off a wonderful counter-attack, sitting the goalkeeper down and slamming into the bottom corner.
11) vs Manchester City (November 2016)
The six-time Ballon d'Or winner collected a pass from Neymar, danced into the box, and slotted home at the near post. It's the type of goal we've come to expect from him.
However, that was where the pleasantries ended that night, as Man City came back to win 3-1.
10) Second vs Chelsea (March 2018)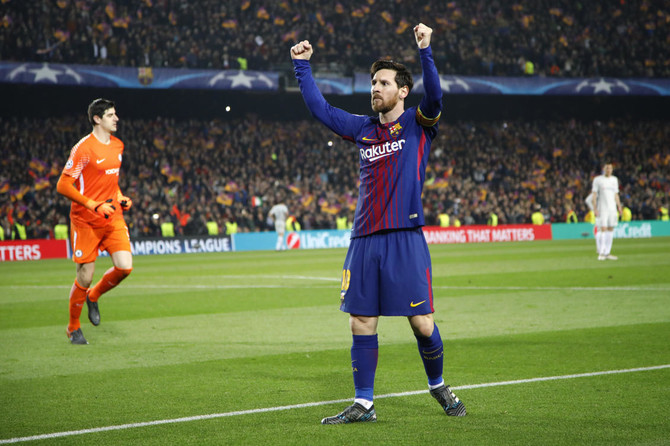 Not satisfied with just the one nutmeg on Thibaut Courtois, Messi returned to humiliate the big Belgian again. This time, it was a lot more smooth, powering in for his 100th Champions League goal.
9) First vs Tottenham Hotspur (October 2018)
Early in the second half of Barcelona's trip to Wembley Stadium in 2018, Messi finally managed to get on the scoresheet after hitting the post twice.
The forward played a pass out to Jordi Alba, who returned the ball to Messi via dummies from Philippe Coutinho and Luis Suarez. The Argentine then placed the ball into the bottom corner. Lovely stuff.
8) Third vs Arsenal (April 2010)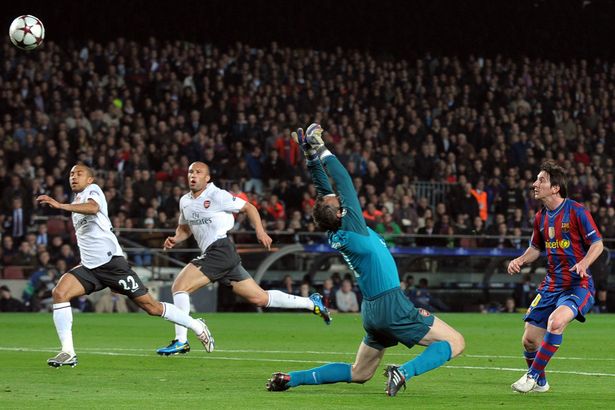 Messi wrapped up a first-half hat-trick against Arsene Wenger's side with possibly the most Messi-esque goal of all time.
He raced through on goal and chipped the ball over the onrushing Manuel Almunia from the edge of the box, making the score 3-1.
7) vs Manchester United (May 2011)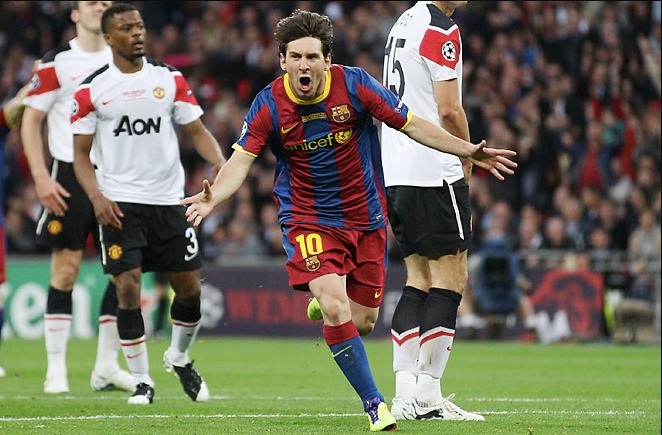 Should a goal in a Champions League final really be as low as seventh? That's up for debate.
The star man collected a pass from Andres Iniesta, drove forward, and smacked the ball in from outside the box.
It was a lovely strike, although there are questions to be asked of Man Utd goalkeeper Edwin van der Sar.
6) First vs Arsenal (April 2010)
Messi's rout vs Arsenal in April 2010 began in the 21st minute when he emphatically levelled the score.
After receiving the ball outside the box, he struck an unstoppable effort into the top corner. Start as you mean to go on.
5) vs Manchester United (May 2009)
Messi scored his first goal against an English club in May 2009, and he could hardly have picked a bigger occasion.
Up against a Man Utd side looking to win back-to-back Champions League titles, the 21-year-old secured the trophy for Barcelona with their second goal of the game.
And it was a rare headed goal, nodding home at the back post from Xavi's pinpoint cross.
It's the only header on this list, and the player himself has described it as his favourite ever goal.
4) First vs Arsenal (March 2011)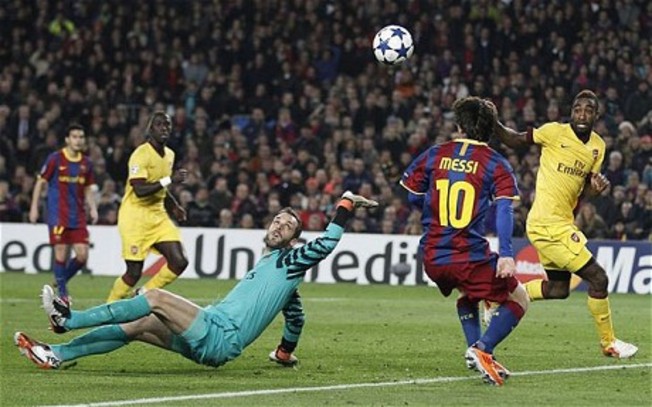 Arsenal fans must be sick to death of this man. From six appearances, he has scored nine goals and recorded one assist against them.
This one was rather nice, to say the least. After receiving a pass from Andres Iniesta, he clipped the ball over the goalkeeper before smacking a volley into an open net.
Perhaps he overcomplicated things a bit, but it was all for our entertainment.
3) vs Manchester City (September 2021)
After a slow start to life at Paris Saint-Germain, all the usual critics came out. Messi silenced them in style.
Picking up the ball on the halfway line, the winger surged forward, exchanged passes with Kylian Mbappe, and placed one into the top corner from 20 yards out.
Even at 34, he's producing dazzling moments that make your jaw drop.
2) First vs Manchester United (April 2019)
He may have bagged against them in two Champions League finals, but the pick of his four against the Red Devils came in the quarter-finals in 2019.
The little magician came out on top from a 50-50 with Ashley Young, pulled off the cheekiest of nutmegs against Fred, and then bent one into the bottom corner from the best part of 25 yards.
1) Second vs Liverpool (May 2019)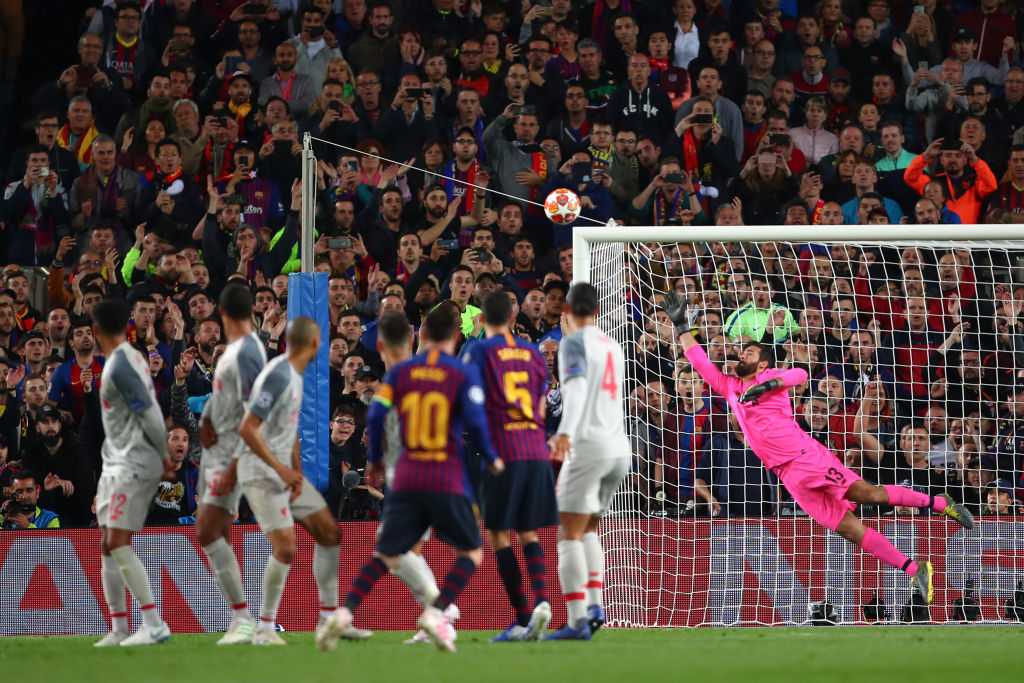 We told you we'd get to it later (much, much later).
Champions League semi-final, a free-kick from 30 yards out, up against one of the best goalkeepers in the world.
The circumstances were near-impossible, and yet everyone knew what was about to come.
He curled the ball right into the top corner, sparking wild celebrations worldwide. Utterly, utterly breathtaking.
Read also: Harry Kane is playing poorly – but there's no need to panic…yet.