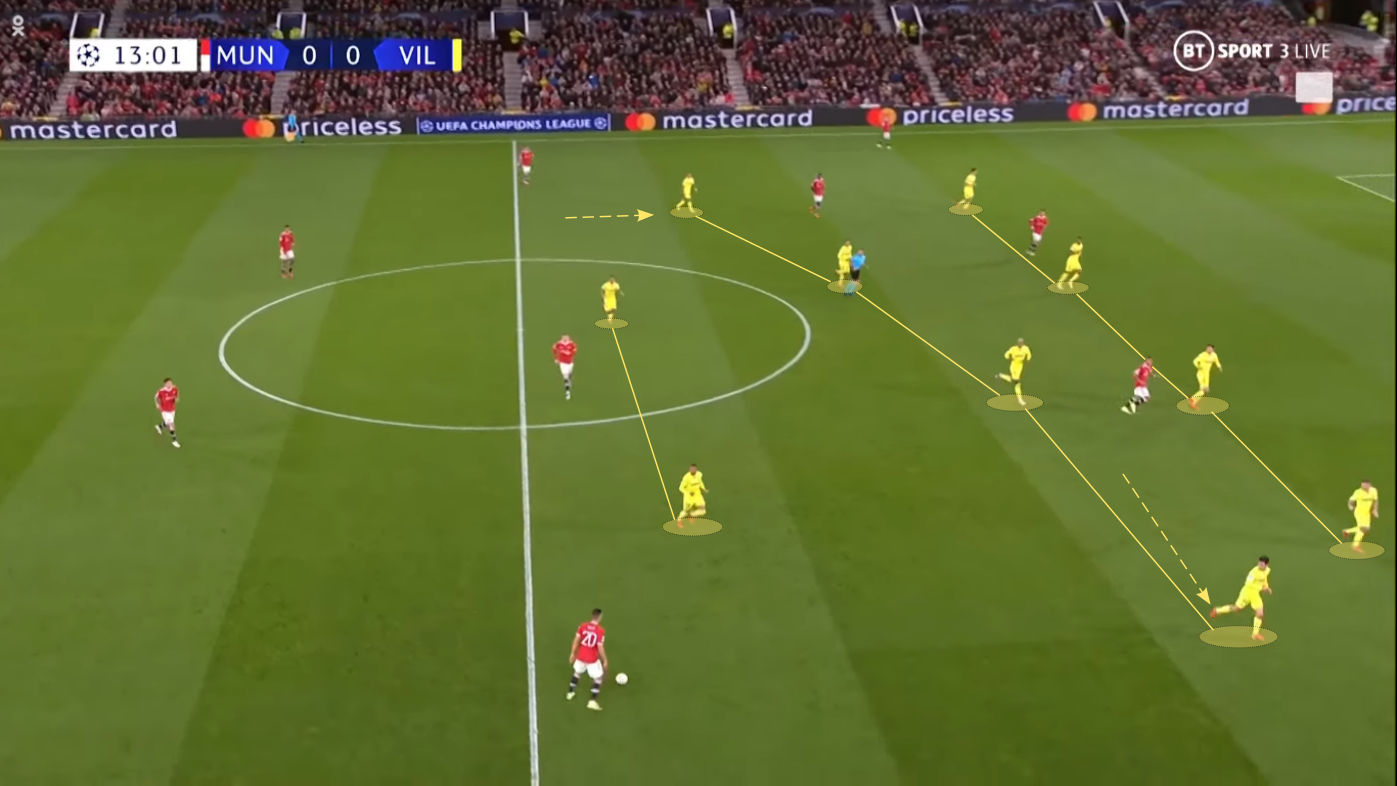 The Champions League continues to provide clashes with massive levels of The Narrative™, and among those was the Group F Matchday 2 clash between Manchester United and Villarreal.
These two sides most recently met in the 2020/21 Europa League final, which saw the La Liga club win their first-ever major trophy.
Although the stakes were not as high this time, the importance of the three points was not lost on anyone.
The Red Devils visited Switzerland on matchday 1 to face Young Boys, returning with no points as they conceded a last-minute goal in a 2-1 defeat.
Villarreal also suffered a bit of disappointment themselves, having led Atalanta from behind only to concede late on in a 2-2 draw.
With Aaron Wan-Bissaka suspended after picking up a red card against Young Boys and Harry Maguire and Luke Shaw injured, United's defensive options were quite limited, so they had to assemble a backline unaccustomed to playing with one another.
However, the rest of the side was at full strength, as were their visitors (bar Samuel Chukwueze), so two strong line-ups were named.
Once again, Villarreal did not put too much effort into pressing and were quite happy to sit back in a 4-4-2 block instead, with Yeremi Pino dropping to the right of the midfield three while Manu Trigueros shifted out to the left.
This was vertically compact but not as narrow as the one we saw in the Europa League final because United had two very threatening wingers hugging the touchline on either wing.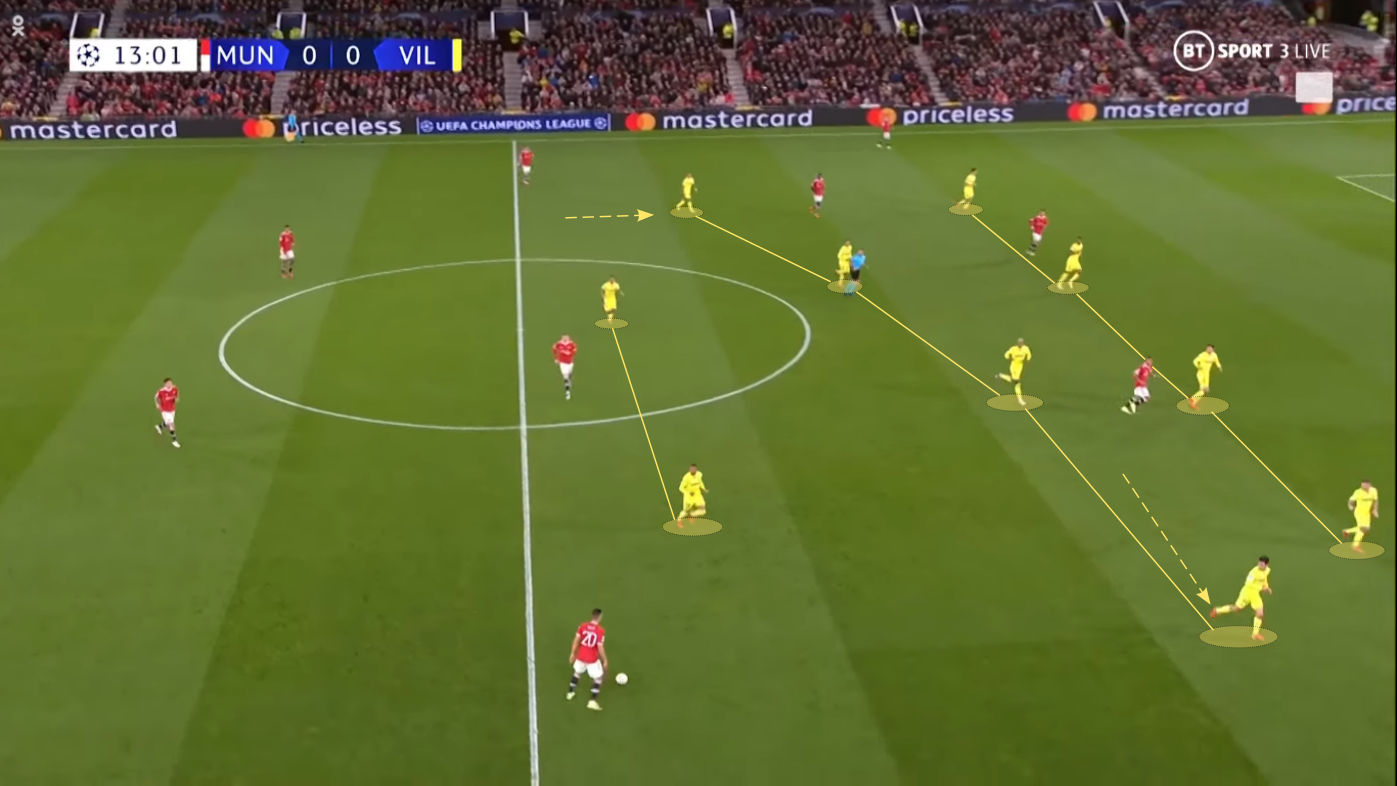 The home side lined up in a 4-2-3-1 on paper, and although Paul Pogba did sometimes drop beside Scott McTominay to help progress the ball through the middle in this way…
…the Red Devils' system in possession very much resembled a 4-3-3. Neither of the full-backs pushed too far forward as they stayed in line with McTominay at best (with Diogo Dalot also tucking in quite narrow).
Pogba pushed forward down the left-side channel and Bruno Fernandes operated in a similar area on the right. The wingers, as aforementioned, stayed high and wide.
They found breaking down a well-drilled defensive block very difficult, as there seemed to be minimal pre-planned positional rotations that could pull the defence apart.
The only thing they had there was Fernandes and Mason Greenwood interchanging positions to drag Alberto Moreno inside (with the winger) and open up space out wide, but there was always a misplaced pass to waste the opportunity on the few initial occasions that this worked.
In the Europa League final, United did find this sort of space out wide on the right, and that was because Villarreal were quite happy to afford it to Wan-Bissaka, whose strength certainly does not involve the ball at his feet, so most of his crosses went astray. This time too, the right-back position was one of their main issues, albeit in a very different way.
Remember how we discussed Dalot tucking in relatively narrow in possession? Now, one would imagine that this would serve to cut out counterattacks, but in a way, it contributed to Villarreal being even more threatening in transition.
Since Pino dropped back, Arnaut Danjuma was on the left of a front-two out of possession for the visitors, and he was their main outlet in such situations. With Dalot narrow, he could target the space in behind him if the ball was turned over in midfield in this way:
Even if he wasn't goal-side of Dalot from the start, Danjuma had an absolute field day on the left wing.
He was comfortably better one-on-one against the Portuguese full-back. Danjuma skinned him whenever he came face-to-face, ultimately firing four shots, completing three dribbles and creating two chances in the match, including the assist for the opener.
The Dutch winger's finishing was sub-optimal (as was that of his teammates), which was the main reason (along with David de Gea's heroics) that Villarreal did not have at least a couple of goals in the first half alone.
In the end, the Yellow Submarine paid for their missed chances as United came away with a 2-1 win.
Jesse Lingard came off the bench to assist the stoppage-time winner and truly redeem himself after the horror backpass that cost his side a point against Young Boys, but in the overall balance of the game, the visitors were the better side.
It isn't always advisable to draw conclusions from single-game xG tallies as they can be easily skewed by a series of big chances and are heavily influenced by the game.
However, Villarreal's 2.37 xG in contrast to United's 1.07 does tell the story of the match – they should have been the side winning 2-1.
This match reiterates the glaring lack of progress United have made. After the Europa League final, they had a whole summer transfer window which they used to bring in three high-quality first-team players – a centre-back, winger and centre-forward.
However, they failed to address the two main issues that cost them that trophy. Those problems almost hurt them in this match, as they struggled to break down a compact defensive block with ball progression through midfield proving very troublesome, while their right-back was one of their biggest weak links.
United can buy as many Varanes, Sanchos and Ronaldos as they want, but until they address their lack of world-class central midfielder and right-back, they will never be able to play at the level that Europe's elite clubs are operating at right now.
They have been riding their luck of late, but the thing about luck is that it always runs out, and when that happens, United could be in real trouble.
Stats courtesy WhoScored and FotMob.
Read: Solskjaer's infatuation with Fred and McTominay is extremely risky.