119 days after the Champions League final in Portugal, Chelsea and Manchester City were back at it on a football pitch.
The two sides had faced each other three times under their current managers, and Thomas Tuchel's team triumphed on each occasion.
Since their Champions League success, they added UEFA Super Cup to their trophy cabinet, maintaining an unbeaten start to the 2021/22 season to this point
In addition to being level after 90 minutes in the Super Cup, Chelsea also drew against Liverpool in the league (where they were down to 10 men for most of the match) and in a Carabao Cup match.
City lost the first two matches of their season – against Leicester City in the Community Shield and Tottenham Hotspur in the Premier League – but bounced back in style, scoring 17 times in their next four matches.
A goalless draw in their most recent league match against Southampton was another avoidable blip, and a difficult run of fixtures came up next as they are scheduled to visit Paris Saint-Germain and Liverpool in the seven days after the match at Stamford Bridge.
An early battle in what will undoubtedly be a prolonged Premier League title race was on the cards, so it was no surprise that the two teams named the best of their men in their starting line-ups.
There were some interesting decisions made, as Chelsea started with a three-man midfield (which is what they needed to beat Tottenham's press last weekend), while the visitors saw Aymeric Laporte and Rodri return from injury, and the lack of Ferran Torres meant that the false nine was back in action.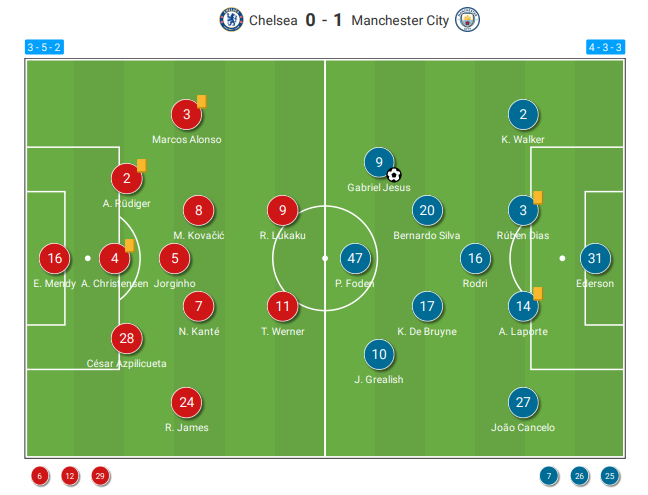 In both their FA Cup and Champions League defeats, City's biggest problem was that their press was unsuccessful and easily played through, after which Chelsea's star attackers did the damage in transition.
Even then, they came out and began pressing really high up the pitch, and for a change, they were successful.
This time, Pep Guardiola's side's structure resembled a 2-4-3-1, which we will inspect closely.
Phil Foden was at the very front of it, so his job was to close down the middle centre-back and do a bit of cover-shadowing while he was at it.
Although Chelsea were using a three-man midfield, Mateo Kovačić was often far away from his partners during the build-up phase, so he was man-marked by Bernardo Silva.
Kevin De Bruyne kept an eye on the other two midfielders, while the wingers positioned themselves to sprint to close down the wide centre-backs while also being able to shuffle across to either Jorginho or N'Golo Kanté (depending on which side they were on).
All of this served to prevent the hosts from progressing the ball centrally.
With the way City's attackers were positioned, they could close down all of Chelsea's central players without being pulled apart or going too far out of position. Here is an example continued from the above instance:
The moment the ball was played out to a wide centre-back, the corresponding winger darted to close him down while Foden cover-shadowed the pass to the other side of the field.
Meanwhile, De Bruyne moved across to mark the midfielder on that side (Kanté in this case), while the other winger came inside to do the same to the other deep midfielder (Jorginho).
That left Chelsea with no feasible central ball progression options unless they played an extremely risky pass.
This certainly was a success, but not a huge one. While City were carved through centrally in the FA Cup, that did not happen again in the Champions League final.
In that match, their issue was that Chelsea's wing-backs proved to be great outlets as they could hug the touchline and receive chipped passes from the centre-backs and keeper, thereby entirely bypassing the Premier League champions' central press. After that, it was transition time again.
This time, though, that was not the case again. City's full-backs pushed all the way up to mark the Chelsea wing-backs, unlike the last time when they were reluctant to get into the attacking third.
This prevented Chelsea from getting out through the wings too, and with Rúben Dias and Laporte clearly winning their individual duels against Timo Werner and Romelu Lukaku respectively, the hosts were truly hemmed in.
In this way, City made sure that the majority of the game was played in Chelsea's half, where the quality of their players in possession could steal the spotlight.
In the end, though, a set-piece followed a sizeable stroke of luck in the form of a deflected shot got them the breakthrough.
Equally, though, the home side caused their own problems. The reason that City's full-backs were hesitant in getting too far forward in the Champions League final was that Chelsea had three forwards in a 3-4-2-1, so they could not simply leave their two centre-backs isolated.
Tuchel switched to a three-man midfield thinking that it would help his side progress centrally as they did in the second half against Tottenham, but City's press was better at preventing that, and with the sacrifice of an attacker for the extra midfielder, their front-two could not worry the visitors' full-backs half as much.
The second issue was the lack of a link between the attack and the rest of the side. Mason Mount played that role to perfection in the Champions League final by dropping deep from his inside forward position, and even though he was out injured here, the likes of Kai Havertz or Hakim Ziyech could have done that.
Without the link, Lukaku and Werner were left all alone up front with no supply. Even on the rare occasion that Chelsea broke through the press, nothing would get them in a real transition attack situation as Rodri would always be there to cut the ball carrier off without having any other attacker to worry about.
This was evident in their average positions map.
Also visible is how Tuchel's substitutions – most notably Kai Havertz for Kanté and to a lesser extent Ruben Loftus-Cheek for Jorginho – tried to correct that. He succeeded to a certain degree, as Chelsea clearly posed more of an attacking threat, although some of that may also have been down to the game state.
Finally, the use of a front-two meant that it would be more difficult for Chelsea to employ a high press effectively, which is why they elected to sit back on most occasions even when the ball was in the opposition half.
To their credit, City also looked very sharp on the counter-attack and continued to carry a serious goal threat even after taking the lead, as the xG chart testifies.
Again, their lack of clinical finishing made life slightly more difficult than it needed to be, but this time it did not hurt them in terms of the result.
For the first time in his tenure, Tuchel saw Chelsea fail to register a single shot on target in a match, and that is because each of their four shots was blocked.
As much as City's defenders deserve credit for that, their attackers were the real stars of the show in this regard, as it was their relentless pressing that led to the lack of any real openings for the home side.
Guardiola's team selection also seemed to revolve around this heavily as he picked his best off-ball workers in Jesus, Silva, De Bruyne, Grealish and Foden while benching the likes of Torres, Riyad Mahrez and Raheem Sterling, who might not have done so well in terms of pressing.
Overall, this was an utterly dominant performance and a statement victory on City's part. The early season blips were there again, but this side has shown that they can be as good as or even better than any other on their day.
Before this game, Chelsea looked to be the team to beat in the initial stages of the season, but given how comfortably they were dismantled and with Liverpool and Manchester United suffering disappointment elsewhere, every English club's main worry has to be City for now.
Stats courtesy WhoScored.
Read: Performance Analysis – Trent Alexander-Arnold's midfield experiment for England against Andorra.