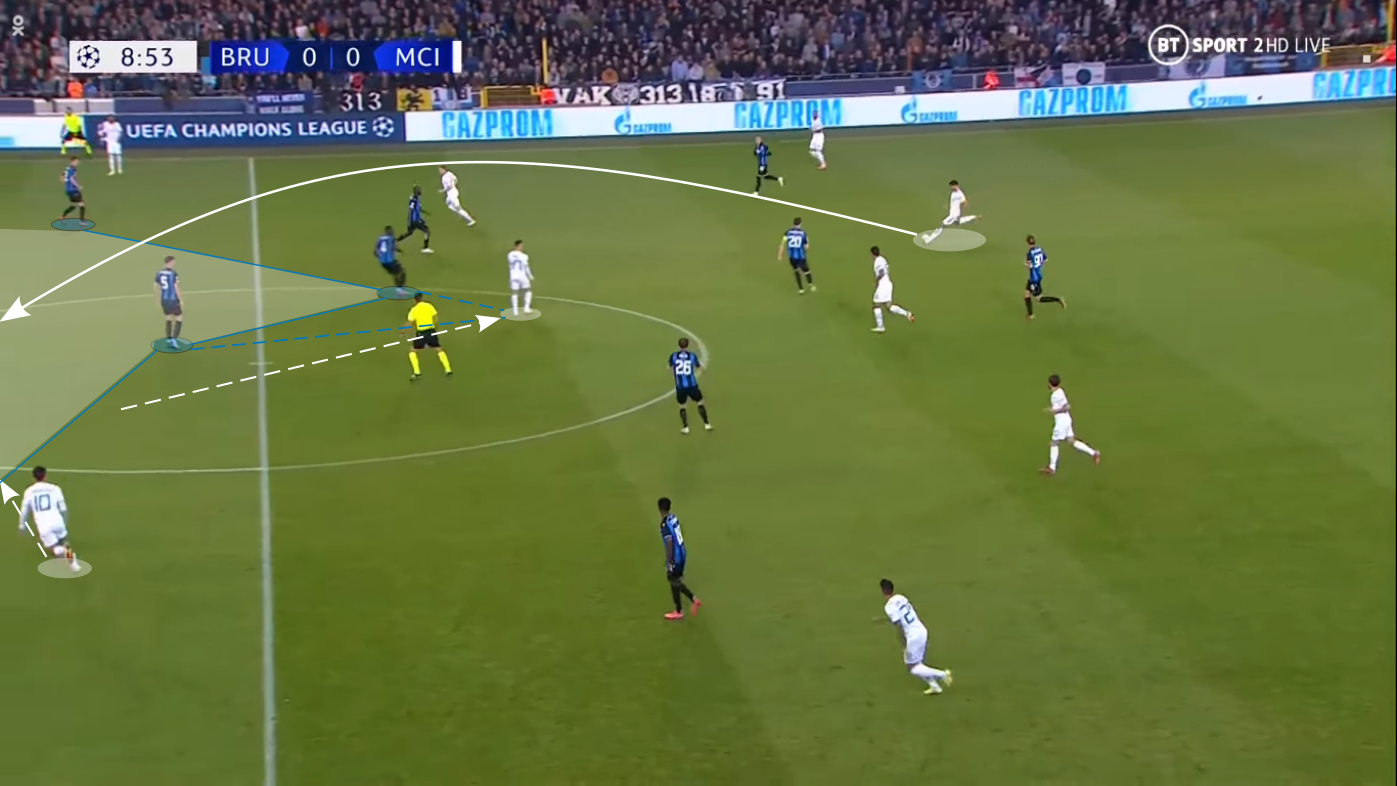 The term 'false nine' is often used too loosely these days to describe any non-striker operating in a central role in a side's front line, so it was nice to see one of its most famous managerial exponents use one of his most talented players in a proper false nine role.
That manager is Pep Guardiola, who led Manchester City in their Champions League matchday 3 clash against Club Brugge.
Funnily enough, the Belgian champions are often incorrectly cited as false nine users when they have Charles de Ketelaere playing up front.
It is important to note that although the Belgian talent can play as a false nine, he is typically not used in that role as his positioning and movements resemble those of a striker.
Either way, Brugge fans did get to see a false nine masterclass at the Jan Breydel Stadium, but unfortunately for them, it came from their opponents.
When the City line-up was announced, there were questions again as to who would play the central attacking role.
Jack Grealish, Kevin De Bruyne, Bernardo Silva and Riyad Mahrez were all in contention, but in the end, it was Phil Foden who acted as a true false nine for the visitors.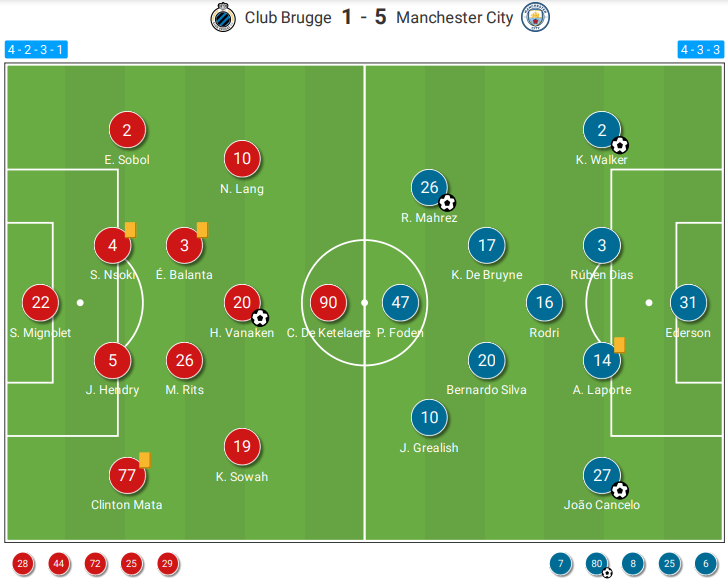 The first thing you would want to take a look at while checking if whether a player is a false nine is their touchmap and Foden's heavy involvement around the centre circle and edge of the attacking third in a match where his team dominated possession (with 63.5% of it) and territory confirms that he operated in that role.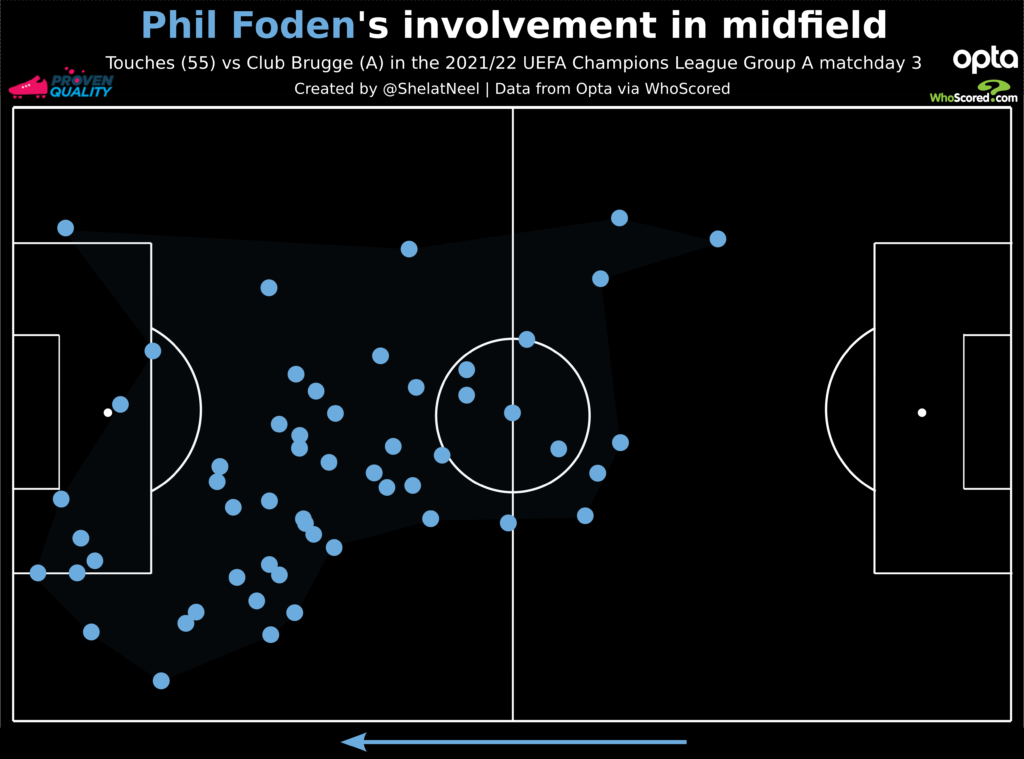 With that out of the way, we can start looking at his role in the match. First of all, let us understand City's structure in possession.
With the ball in their defensive third, the visitors' shape was a 3-4-2-2 of sorts, with the keeper splitting the centre-backs as ever, the full-backs pushing slightly forward to move alongside Rodri (the holding midfielder) and Kevin De Bruyne (who dropped slightly deep), Bernardo Silva pushing slightly forward with Foden moving into the area vacated by De Bruyne on the right, and the wingers staying high and wide.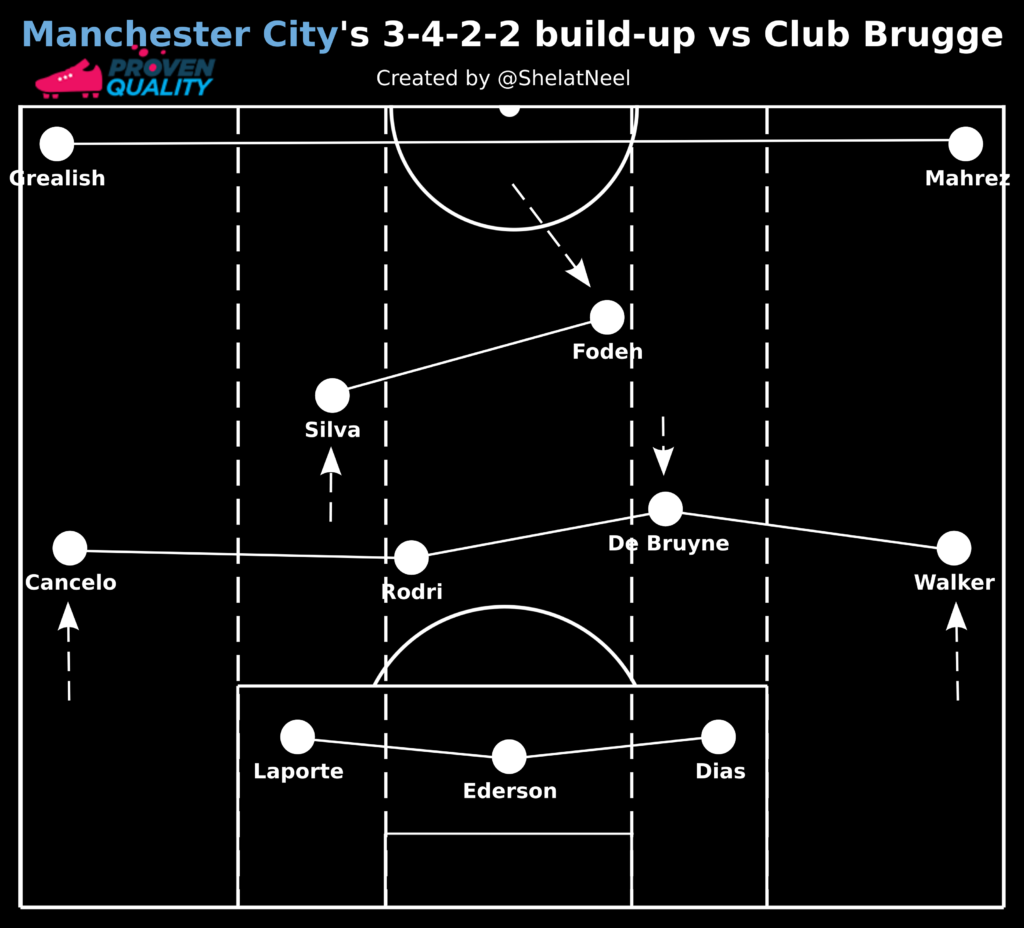 As they got further forward, their formation transitioned into a 2-3-5 of sorts, with De Bruyne and Silva pushing forward in either half-space while Foden either stayed or dropped deep (depending on his starting position) into a central area.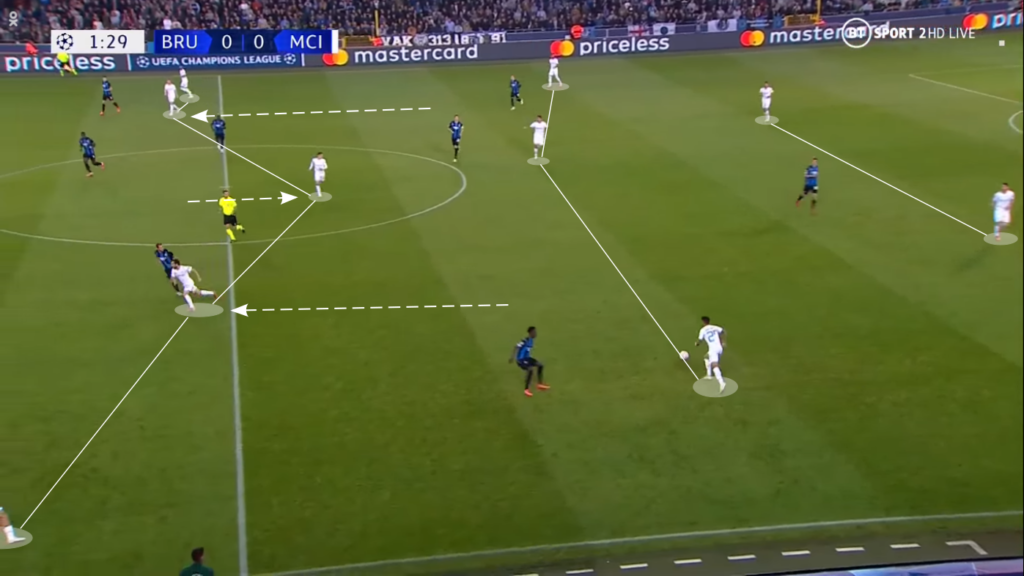 With the midfielders making runs in the opposite direction of the 21-year-old Englishman, the latter often found himself in a lot of space while receiving progressive passes from the backline or Rodri.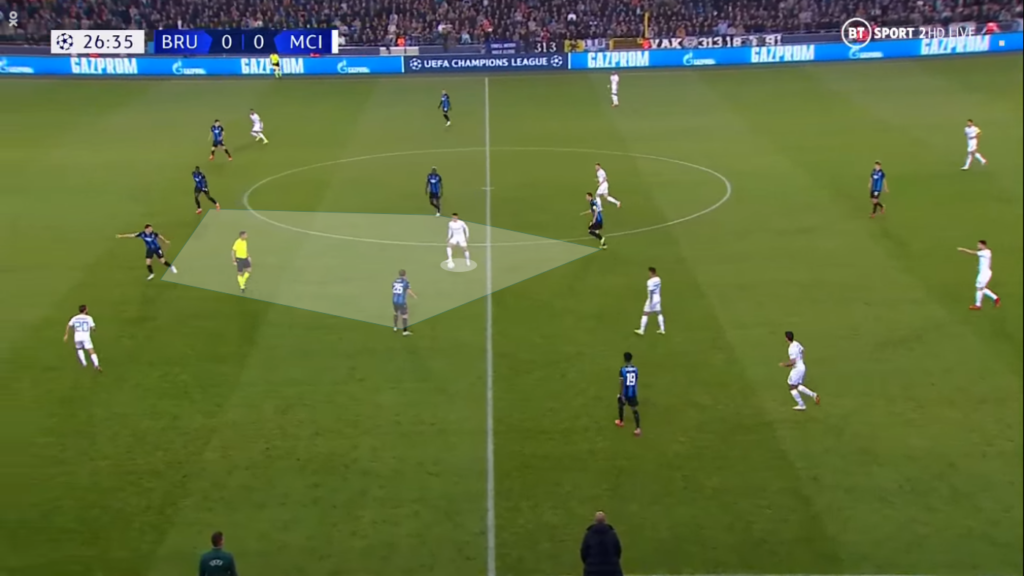 With a host of runners in front of him (at times even including the full-backs), Foden could then either use his incredible left foot to spray forward passes (including his assist for the opener)…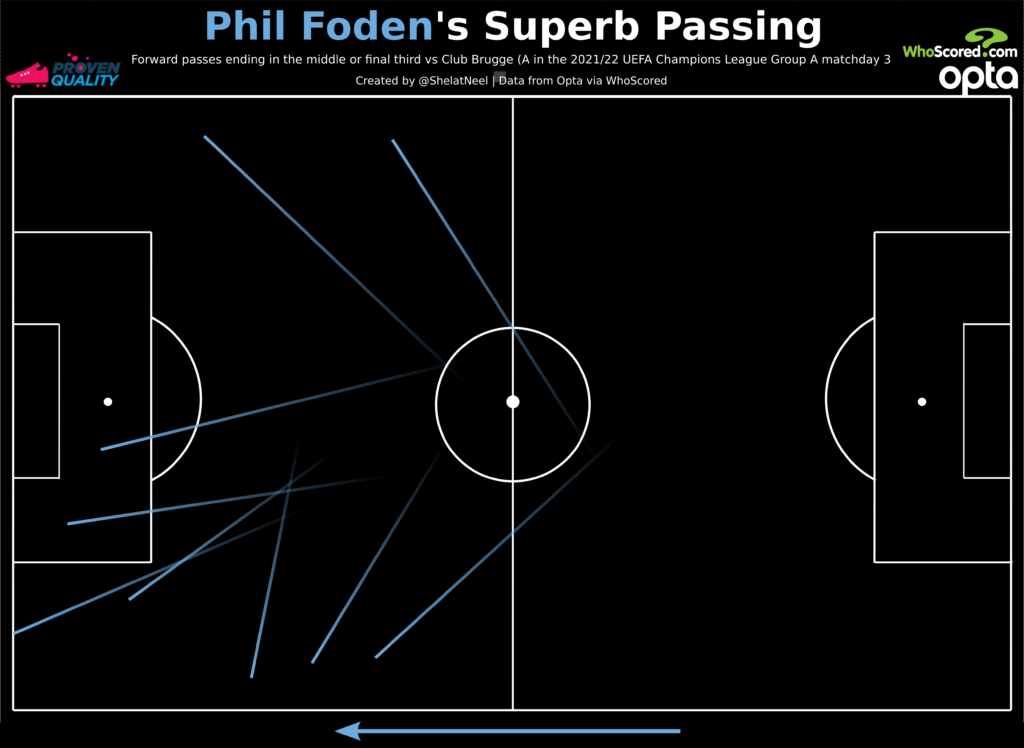 …or, if he wasn't closed down, drive forward with the ball himself.
An important aspect of his performance was that after doing either of these things, he made sure to keep going forward and make late runs into the box.
This led to him having eight touches in the penalty area, firing four shots (three of which came from inside the box) and amassing 0.51 xG, though he failed to trouble the scorekeepers in this way.
Crucially, the English international mixed things up and stayed forward on occasion, forcing the Brugge centre-backs to worry about him and not simply leave him to Éder Balanta or Mats Rits (the central midfielders).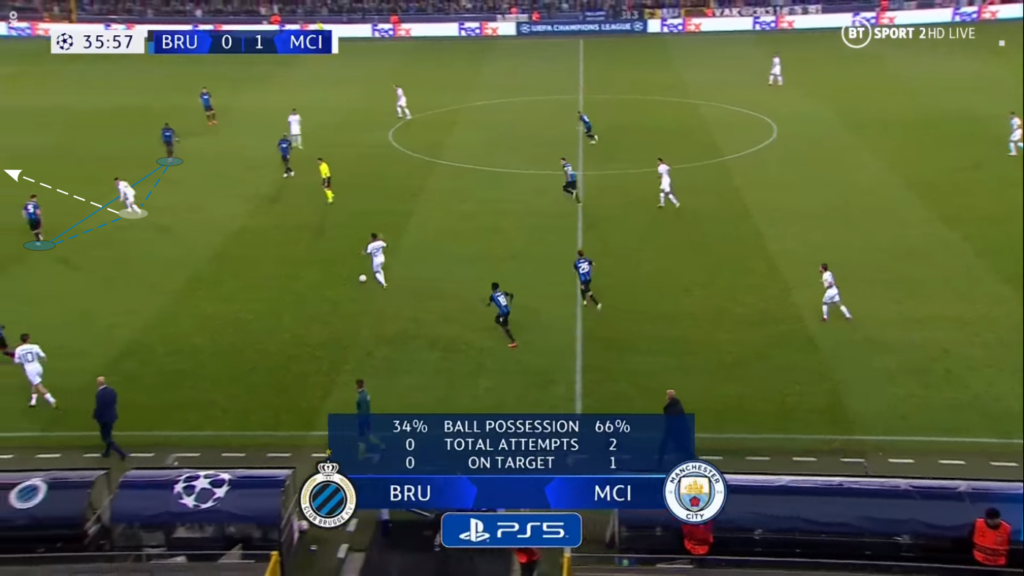 This meant that even when he did not receive the ball, Foden had an impact on his side's attacks by dropping deep, pulling the centre-backs with him, and opening up space behind for his fellow attackers to run into.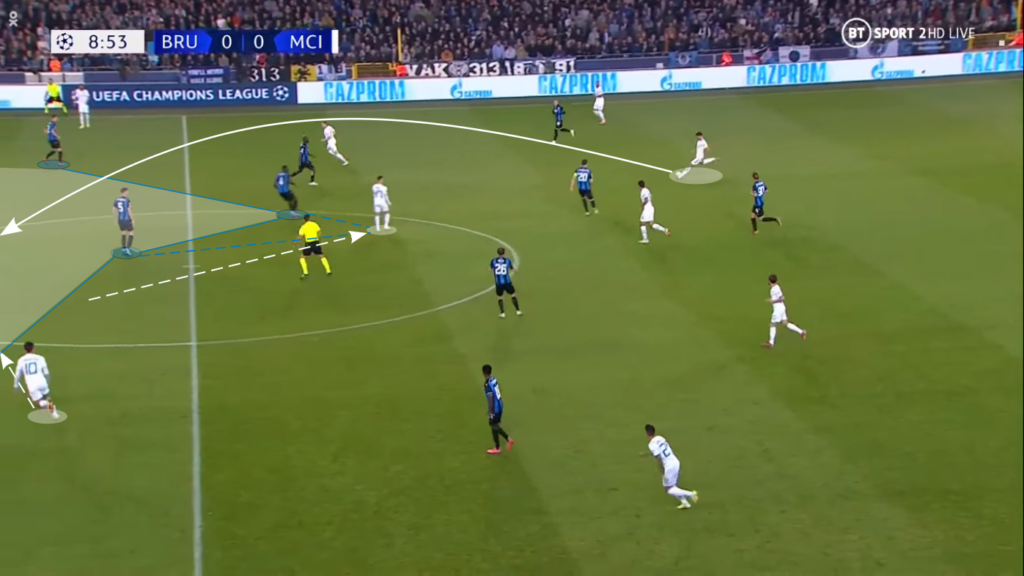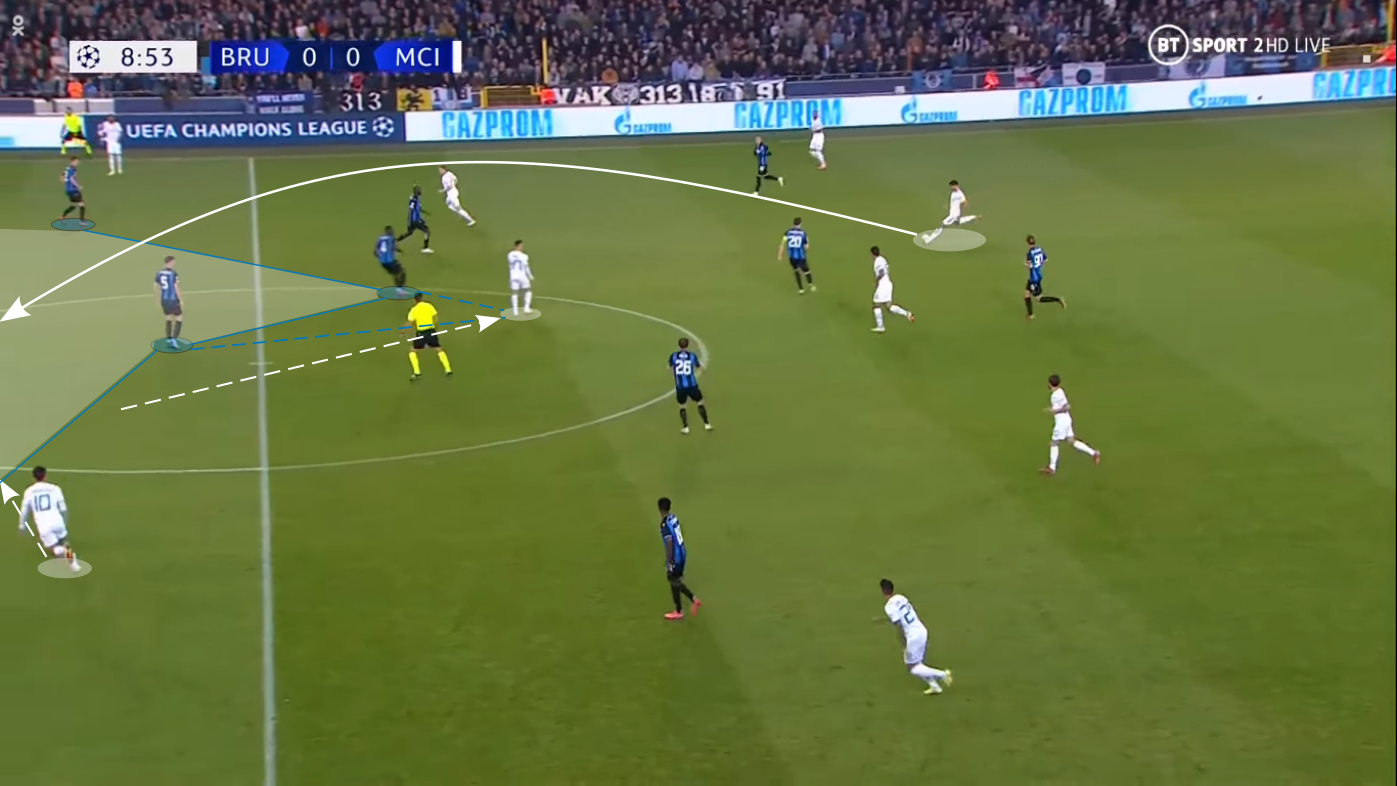 In the 60-odd minutes that Foden was on the pitch, City dominated proceedings and took a three-goal lead, with two of the strikes coming courtesy of the full-backs.
Brugge were set up to frustrate City and defend resolutely, but they were effortlessly carved apart throughout the first half, and a lot of the credit for that must go to Foden's masterful performance as a false nine.
Once again, this illustrates the 21-year-old Englishman's immense quality and versatility, as he delivered another outstanding showing in the false nine role after doing so as a left-winger against Liverpool and even in holding midfield for England.
Foden is one of the most talented footballers around, and the scary bit is that his development isn't even complete yet.
Stats courtesy WhoScored and FotMob.