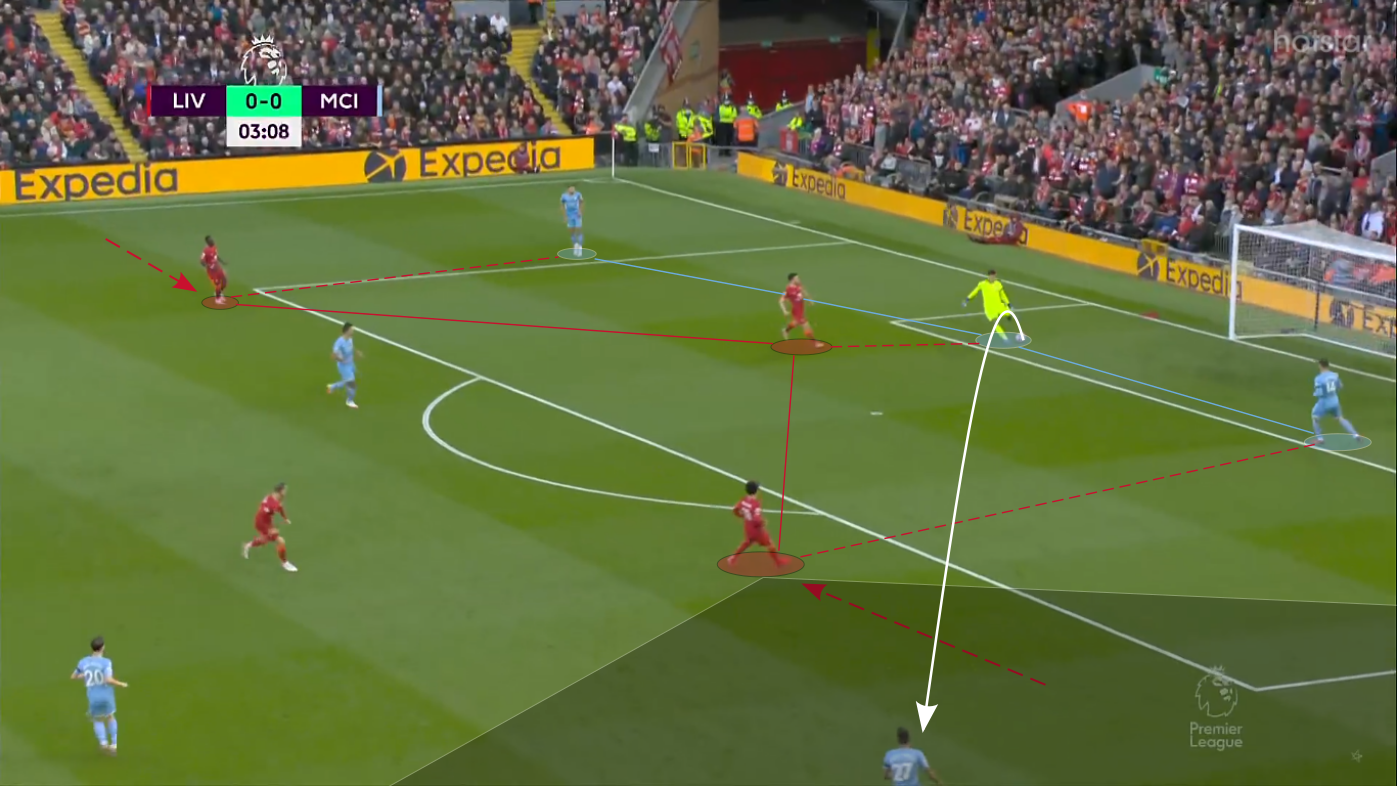 Merseyside and Manchester; red and sky blue; Jürgen Klopp and Pep Guardiola; Liverpool and Manchester City.
The two chief standard-setters of the last few years of the Premier League met for the first time in the 2021/22 season at Anfield, and the stakes were very high.
In arguably the most enrapturing and intense match-up of the English calendar as far as pure footballing quality goes, the two sides had the chance to go top of the early Premier League table.
The Reds had the upper hand as they were second (two points behind Chelsea, who had played one more game) and had a point more than their rivals, but it could all change here.
Liverpool were also the only unbeaten Premier League side left, dropping points only to the league leaders and, most recently, Brentford, while their Champions League campaign was also sailing along very smoothly.
By contrast, City had lost once in both competitions – to Tottenham Hotspur and Paris Saint-Germain (in their last match) respectively – but their last Premier League match was a convincing 1-0 win at Stamford Bridge.
In terms of the teams, the only real areas of contention were right-back for Liverpool, where James Milner was selected ahead of Joe Gomez as Trent Alexander-Arnold was out injured, and City's attack which had Jack Grealish start in a central position ahead of Raheem Sterling and Ferran Torres.
Now, if this was to be one of the best games of football you will ever see, we first need to set out the criteria that a game needs to follow to qualify for this conversation.
This wasn't anything like a cup final or title-decider, and although City did equalise twice in the second half, this match was nowhere near the best in terms of drama. However, in terms of pure footballing quality, few matches can even challenge this one.
The next question becomes what exactly comprises pure footballing quality, and the answer to that – as to most other things – can be very vague.
For simplicity's sake, let's say that at the very top of professional football, the two main denominators of footballing quality are tactics and individual quality – how your team plays and how well your players play.
So, focusing on those two factors, let us take a closer look at this match.
The first half was undoubtedly the cagier and more tactically intriguing, as the two sides afforded a lot of respect to one another and the intensity was not too high, with a good number of misplaced passes and poor touches also slowing things down.
With over 55% of possession in the first period, the onus was on the visitors to make things happen with the ball.
Having easily out-pressed one of the best passers in the league at Stamford Bridge a week prior, City came to Anfield and comfortably out-passed one of the best pressers in the league.
Of course, the superb on-ball technical quality of all of their players helped massively, but a lot of credit has to go to their build-up structure.
Given the chance, Liverpool will always be happy to press as high up the pitch as possible. Therefore, City tried to prevent that from happening by using their goalkeeper as the most integral part of their build-up.
With possession in their own box, the visitors' structure was a 3-4-2-2 of sorts, with the two centre-backs splitting and going to either side of Ederson, the full-backs hugging the touchline in line with Rodri and Bernardo Silva (who stayed deeper), Kevin De Bruyne and Grealish hovering between the lines to help progress the ball in transition and the wingers staying high and wide.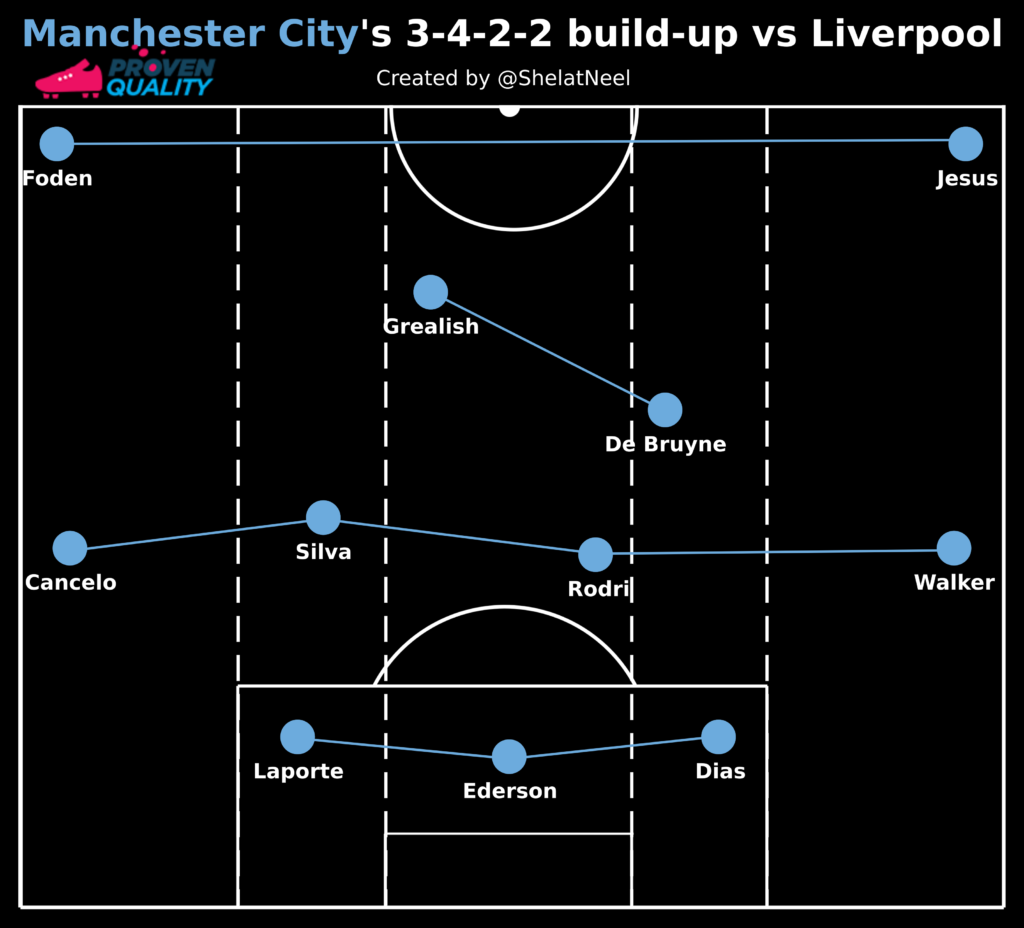 The key players in Liverpool's press are their wingers, so this structure chiefly targetted them. With a three-man base including the goalkeeper, even a striker and one central midfielder would not be able to press successfully, so unless the wingers tucked in extremely narrow, City could easily circulate possession around their box.
However, as soon as the wingers moved into more central positions, the away side's full-backs would be open to receive chipped passes.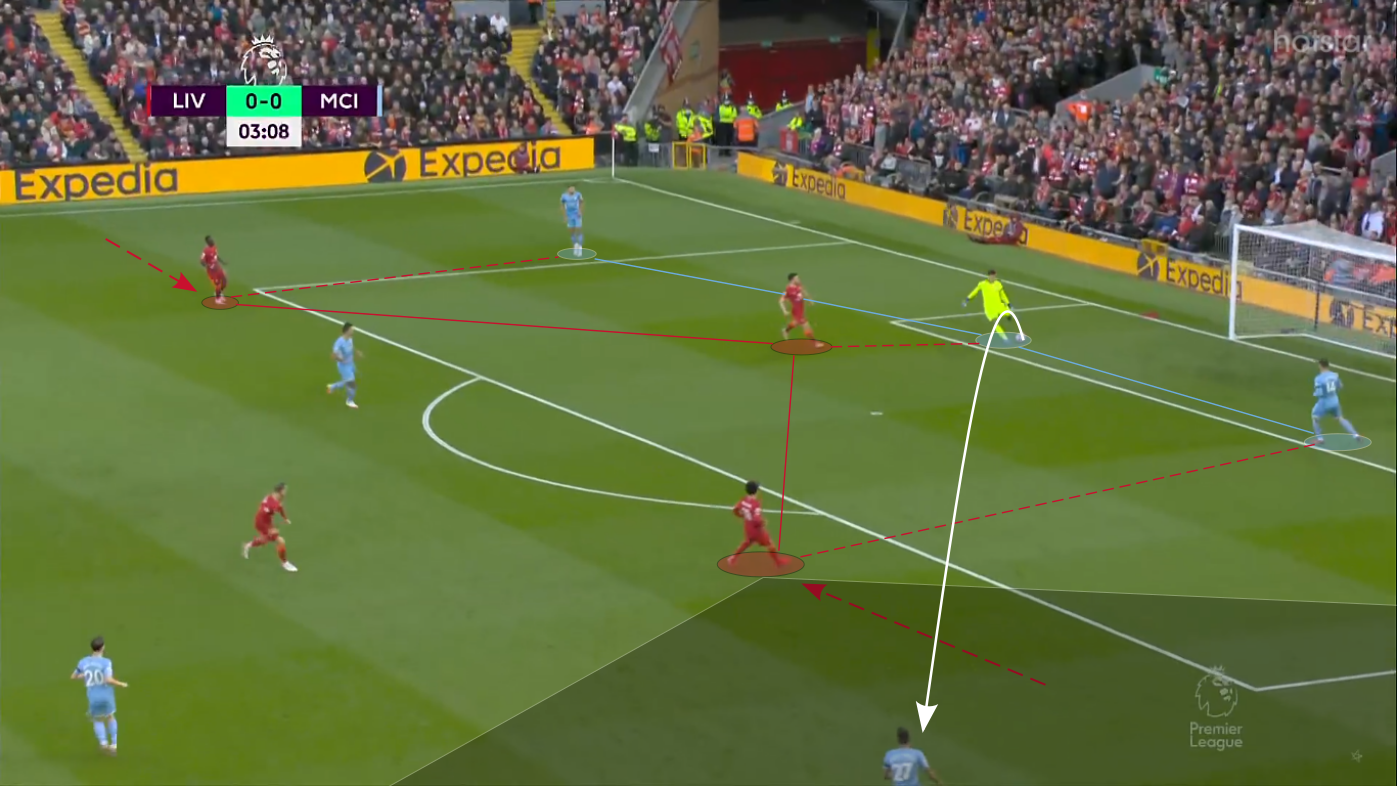 Still, if Liverpool wanted to go all out with their press, they could ask their full-backs to prepare to close down their counterparts when they received the wingers went narrow.
However, this is where the high and wide positioning of City's wingers comes in, as they always offered a threat in behind thanks to Ederson's incredible range of passing.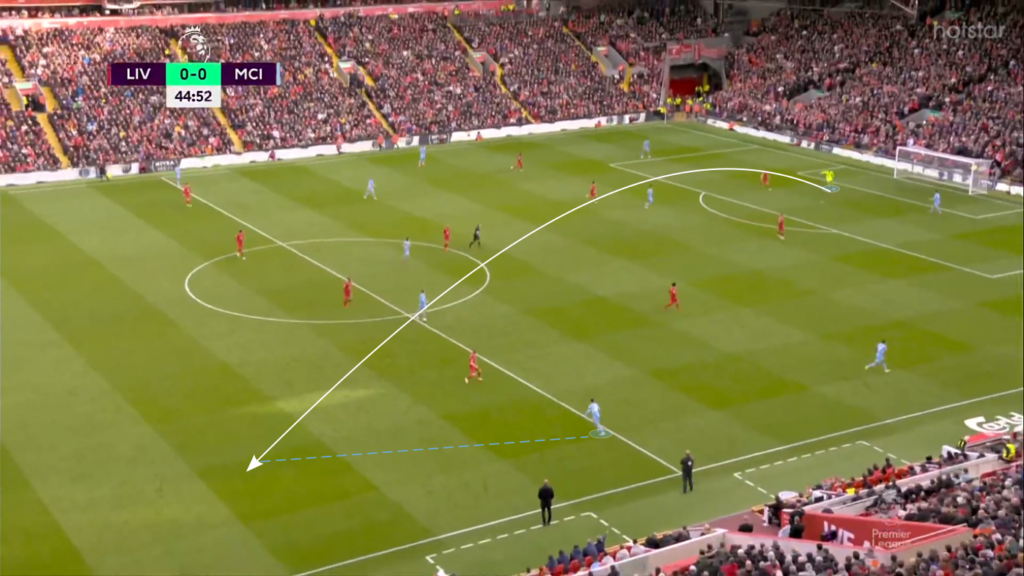 The Brazilian goalkeeper was, as aforementioned, the most important part of City's build-up structure here, and he delivered in style with one of the best goalkeeper distribution performances you will ever see in the first half.
A key takeaway from this passmap is that most of his passes were aimed towards the left side of the pitch.
Undoubtedly, part of this may be due to his left-footedness, but this was also a clear tactical ploy on City's part to target the Liverpool right, with 44% of their attacks coming in that direction through the match.
The main reason for this was because they wanted to target James Milner at right-back. This is also why Grealish was shifted into a central role – Foden is the best one-on-one dribbler on the City left.
The young Englishman had an absolute field day against the Liverpool man, as his teammates helped him get the better of him by playing balls in behind (this particular instance came after Silva wriggled past three opponents before casually dropping a shoulder in front of Virgil van Dijk in one of the best non-Messi dribbles you will see in a professional football match)…
…finding him isolated one-on-one with Milner…
…or doubling up on the full-back with either Silva or João Cancelo as Jordan Henderson could not always come all the way out to the wing to defend, and Mohamed Salah isn't the best winger in the world at tracking back.
As hard-working and energetic as he is, all of Milner's 36 years of age clearly showed here as Foden absolutely ran rings around him, drawing at least three bookable fouls (of which only one was punished with a yellow card, much to Pep Guardiola's ire) before the ex-Leeds United man was substituted off.
For all of City's tactical success and overall domination in the first half, they failed to take their chances once again, and as ever, this came back to haunt them.
In an intense, sometimes erratic and end-to-end second period, Liverpool started to find their groove in possession after a loose first 45, eventually breaking the deadlock after a slick move down their right which was finished off by Sadio Mané.
Foden finally finished a chance from the left of the box before Salah turned up with one of the most special individual goals.
A deflected De Bruyne hit from the edge of the box made it 2-2 with under 20 minutes to play, and although Rodri had to make one of the most heroic last-ditch blocks, the scorekeepers were not troubled again.
This game had everything – the first half showcased the intense tactical battle between the two sides, which also allowed City's incredible on-ball technicians from Ederson to Silva and Foden to shine.
The second featured more helter-skelter end-to-end football with moments of impossibly good brilliance from either side and although there was no last-minute cup final winner level of drama, we certainly had some tension in the air too.
A draw is arguably a fair result in the end, as City dominated proceedings in the first half with a near-unpressable build-up structure but lacked the finishing touch, while the home team's players had greater moments of magic in them when it mattered.
As clichéd as this is, it truly was football that won in the end because we were treated to one of the best matches any of us will ever be lucky enough to witness.
Stats courtesy WhoScored.
Read also: Ben Chilwell at risk of missing out on World Cup squad.