Hiring a club legend to take charge is often a risky move in football.
There are plenty of positives to it. The man taking over knows all about the club, and he already has the fans' support. And, if they succeed, their incredible history with the club becomes even more illustrious.
However, it doesn't always pan out this way. If things don't click on the pitch, it can turn ugly. Fanbases become divided and legacies get tainted.
Barcelona recently found this out when they sacked Ronald Koeman. The Dutchman won a Copa del Rey during his time as manager but missed out on the La Liga title and suffered several heavy defeats in the Champions League.
And it looks like La Blaugrana will hand control to another former player, as Spanish midfielder Xavi is the favourite for the job.
The World Cup winner established himself as one of the greatest players of all time at Camp Nou.
Will he fare any better than Koeman? We'll have to wait and see. Here are five men that he will be looking to emulate.
5) Enrique Fernandez
Enrique Fernandez's career at Barcelona was brief but highly successful. He made just 17 league appearances for the Catalan giants during a short spell in the mid-30s.
Following his retirement, he soon returned to Camp Nou in 1947. Before his appointment, the club had won two La Liga titles in their history.
The Uruguayan managed to double that tally, with triumphs in his first two seasons in charge.
In addition, he also guided his side to victory in the first ever edition of the Latin Cup – a competition contested between the title winners in Spain, France, Italy and Portugal.
4) Jack Greenwell
Jack Greenwell was one of the first men to manage Barcelona, first taking charge in 1917.
During his playing days, he spent four years under club founder Joan Gamper, winning two Campionat de Catalunya titles – a league contested in Catalonia before the launch of La Liga in 1929.
Greenwell added to this success after his retirement and subsequent appointment. The Englishman won four more Campionat de Catalunya trophies, as well as two Copas del Rey from 1917 to 1923.
He returned to the Camp Nou for a second spell in 1931, winning another Campionat de Catalunya.
He was credited with bringing a style of football to Barcelona that focused on passing and building out from the back. His seven years in charge makes him the club's second-longest serving manager ever.
3) Luis Enrique
Luis Enrique played for La Blaugrana for the final eight years of his playing career, having previously lined up for bitter rivals Real Madrid. At Camp Nou, he won two La Liga titles and two Copas del Rey.
In 2014, he got the opportunity to add to his trophy cabinet when he was selected to take over from Gerardo Martino. He proved to be a huge success.
With the infamous 'MSN' trio, Enrique guided Barcelona to the treble in his debut season.
Goals by Ivan Rakitic, Luis Suarez, and Neymar helped them defeat Juventus in the Champions League final, and Lionel Messi ended the year with his fifth Ballon d'Or.
He was unable to win another Champions League in the next two years, but he managed to lift two more Copas del Rey and a La Liga title before opting not to extend his contract in 2017.
He was later appointed as the manager of the Spain national team after the 2018 World Cup.
2) Pep Guardiola
Regarded as one of the greatest managers of all time, Pep Guardiola established himself as a Barcelona legend during his playing career. He was a key figure in their side for 11 years from 1990 to 2001.
After spending some time coaching the youth teams, the former midfielder was given his first senior management job in 2008. At the time of his appointment, the club had not won a trophy for two years.
Guardiola wasted absolutely no time in making an impact. Upon his appointment, he sanctioned the sales of several first team stars, including Ronaldinho and Deco.
But it ultimately proved to be the right move. In his first season, he won the treble, beating Manchester United in the Champions League final thanks to strikes by Samuel Eto'o and Lionel Messi.
The following year, he got his hands on a second successive league title and made it three in a row in the 2010/11 campaign.
That same season, Barcelona won another Champions League, again defeating Man Utd with goals from Pedro, Messi and David Villa.
Guardiola also guided Barcelona to some of their most memorable results against arch rivals Real Madrid. He won 6-2 at the Bernabeu in his debut season and beat them 5-0 at Camp Nou in 2010.
Guardiola's Barcelona are considered by many to be among the greatest club sides of all time.
He later went on to win plenty more trophies at Bayern Munich and Manchester City.
1) Johan Cruyff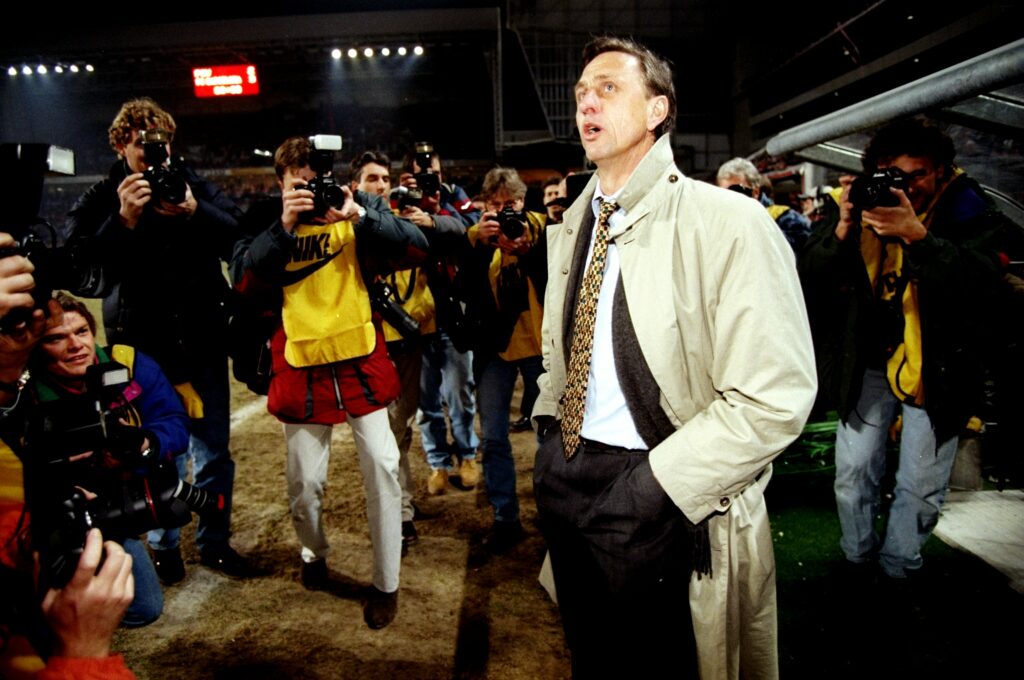 Johan Cruyff is arguably the most influential figure in the history of football. As a player, he was one of the greatest ever to play.
The Dutchman lined up for Barcelona for five years from 1973 to 1978. He made 227 appearances in this time, scoring 85 times. This helped the club to their first La Liga title in 14 years, as well as a Copa del Rey.
Ten years after his departure, Cruyff returned to Camp Nou for a spell in management. He remained in charge for eight years, making him the club's longest-ever serving manager.
In those eight years, he guided the club to four La Liga titles, one Copa del Rey and their first European Cup in 1992. They beat Sampdoria 1-0 in the final thanks to a free kick by Ronald Koeman in extra time.
But Cruyff's legacy was far more than just the trophies he won. His philosophy became a staple of Barcelona, and he inspired several of the club's key figures.
He was an unofficial advisor to president Joan Laporta during his first stint at Camp Nou. It was under Cruyff's advice that Laporta appointed Champions League winning managers Frank Rijkaard and Pep Guardiola.
A dazzling player, a winning manager, and a revolutionary thinker – Johan Cruyff is undeniably one of football's most important names.
Read also: England's uncapped players and who they could switch allegiance to.