The United Kingdom government could ease COVID-19 quarantine rules for footballers entering from 'red list' countries, according to a report by The Athletic.
The 'red list' is compiled of several countries around the world that have been hit hard by the COVID-19 pandemic.
Anyone entering the UK from one of these countries is required to complete ten days of quarantine in a hotel. This caused some trouble during the last international break in September.
Premier League and Football League clubs agreed not to release players for international duty if they were playing in a 'red list' country, as it would mean that they would miss the first league fixture after the international break.
This left several national teams without some of their star players. For example, Brazil were without the likes of Alisson, Ederson, Thiago Silva, Fabinho, Richarlison and Fernandinho.
Meanwhile, four Argentina players ignored the message and travelled to South America to play anyway.
As a result, their fixture against Brazil was abandoned during the first half after the country's health officials turned up to drag the players off.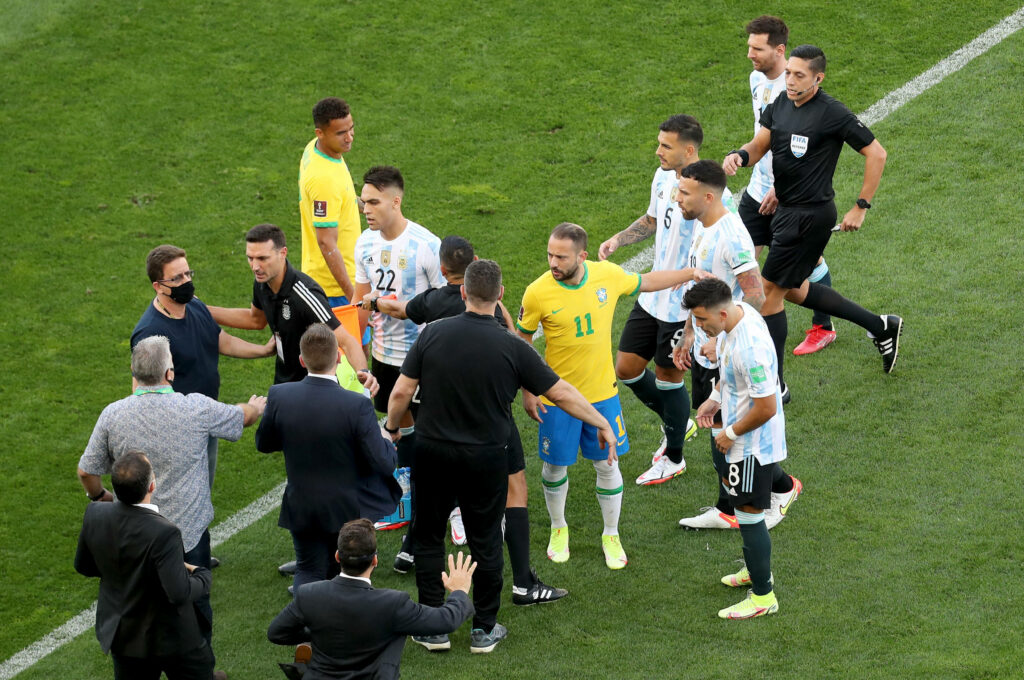 In response to the ban, the affected national teams threatened to invoke a FIFA rule which could prevent those players from playing for their clubs for five days.
However, the parties reached an agreement, and the players were cleared to feature.
According to The Athletic, the UK Government are considering relaxing the quarantine rules for footballers to avoid a repeat of September's controversy.
Instead of ten days of isolation at a hotel, they will be required to spend just five days in their club bubbles.
But this agreement may not be satisfactory. The final round of October World Cup qualifiers in South America are on October 14.
Any players participating in these fixtures will be ineligible for gameweek eight in the Premier League.
Additionally, Manchester City and Liverpool have Champions League fixtures on October 19, meaning their South American players may be absent for two games.
Read also: Former Manchester United striker slams Anthony Martial after West Ham performance.